Imperial Lamb Curry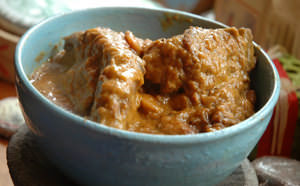 This rich recipe would be prepared in India during Eid al-Adha, the Feast of the Sacrifice during the Raj. It can be prepared with boneless lamb, though the curry will is more savory when prepared using large pieces of meat with the bone.You may use whichever meat you like and still follow the same recipe.

Ingredients
2.5 lbs. lamb, bone-in and cut into large cubes
3 Tbsp imperial Kashmiri curry, ground
4 large onions, sliced
1 tsp fresh ginger, sliced
Fresh hot pepper, to taste
6 Tbsp ghee
½ cup thick cream
⅔ cup milk
5½ oz. blanched roasted almonds, slivered
⅔ cup plain greek yogurt
Method
1

Season the meat with most of the ground curry. Set aside.


2

In a thick pot over medium heat, melt the ghee. Add the onions and the sliced spices. Cook gently until they have turned golden (approx. 20 minutes).

3

Add the remaining ground curry and cook for a few minutes more. Add the pieces of lamb and cook until colored.

4

Pour in the cream and the milk. Salt to taste. Scrape the bottom of the pot to make sure nothing sticks. Simmer over low heat, semi-covered until the meat is tender (approx. 1-1½ hours).

5

Add the almonds and cook for a few minutes more.

6

Remove the pot from heat. Beat the yogurt until smooth and blended with the meat. Do not reheat.

7

Serve with Spicy Basmati Rice, naan bread and a lightly sour chutney.