Indian Blackened fish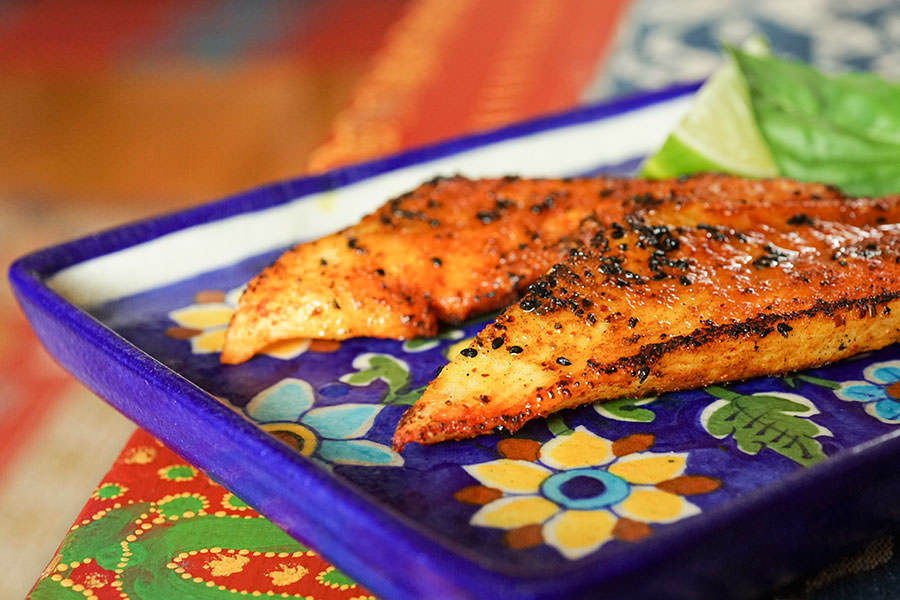 It was quite refreshing to see a cooking technique normally associated with Louisiana flawlessly executed in a New Dehli restaurant. In the open kitchen, we could clearly see chefs cooking fish and seafood on tawas, which are traditionally used for preparing chapattis and parathas.  It should come as no surprise that western cuisines are not the only ones that evolve!
Ingredients
2 6 to 8 oz fish fillets (approximately 200 g)
¼ cup clarified butter (ghee)
2 Tbsp Indian fish rub
2 Tbsp butter
1 tsp grated ginger
2 Tbsp lime or lemon juice
Method
1

Rinse the fillets under running water. Pat dry using paper towels, and then place on more paper towels for 5 minutes so they dry thoroughly.

2

Place the fillets on a plate. Brush with melted ghee, and then sprinkle on the spices. Turn fillets over and repeat the ghee and spice blend technique.

3

Heat a cast iron pan on medium heat. Put fillets in the pan and drizzle on the remaining ghee. Cook for two minutes, turn the fish and cook for another two minutes.

4

Place the fillets on a large plate. In a small, clean pan melt butter with ginger and lime juice. Pour on the fish and serve immediately.