Indian spice rub Fishsticks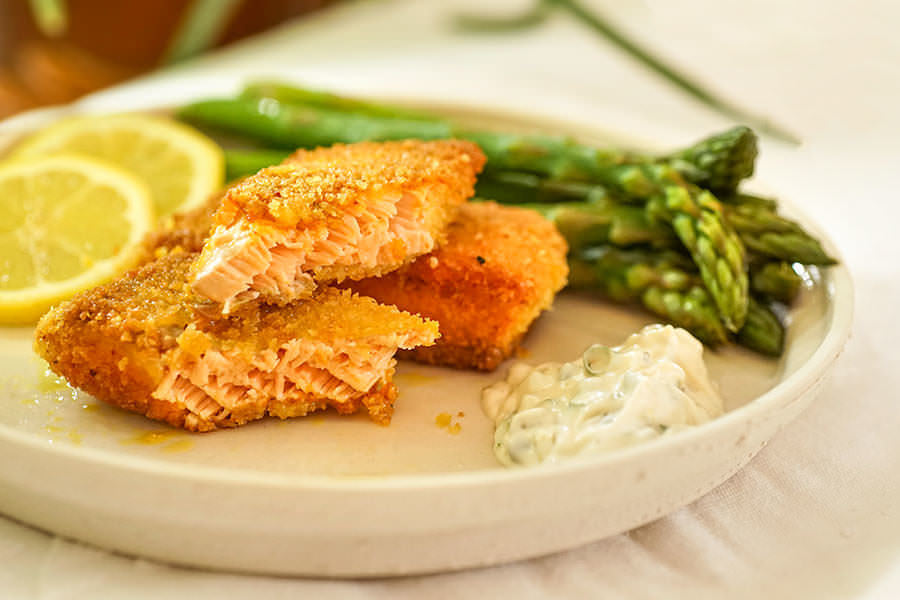 It's important to note that this recipe can be made using any spice blend of your choice. Be careful, rubs all contains salt and that should be taken into consideration when making your recipe.
Ingredients
2 large eggs
¼ cup milk
1 cup all- purpose flour
1cup Panko bread crumbs
1 lb (500 g) cod fish or salmon fillet cut in 3 cm thick « steaks »
2 Tbsp Indian fish rub
¼ cup ghee or olive oil
Method
1

Beat eggs and milk in a bowl.

2

Put panko in a bowl and the flour in another.

3

Season the fish steaks with the Indian rub.

4

Flour each piece, place them first in the egg preparation, then in the bread crumbs, making sure that the pieces are well covered. Set aside.

5

Heat 3 Tbsp oil in a large pan, on medium-high heat.

6

Place half the fish in the pan making sure that the pieces don't touch. Cook for 2-3 minutes on each side.

7

Remove the fillets and quickly clean the pan using a paper towel.

8

Repeat steps 4 and 5 for the remaining pieces of fish.