Indonesian Fried Rice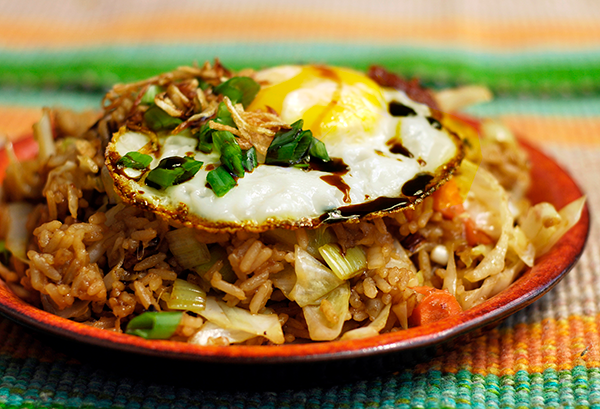 Cleaning the fridge has never tasted so good!
Ingredients
6 cups cooked rice, cold
1 carrot
1 ½ cup cabbage, diced
1 Hungarian pepper
1 onion or 1 small leek
4 tbsp peanut oil or vegetable oil
Salt
White pepper, ground
3 tbsp Ketjap
1 tomato, diced
Bumbu
6 cloves garlic
1 shallot
½ inch ginger
2 tbsp sambal oelek (hot chili paste)
Toppings
4 fried eggs
Crispy fried garlic
Green onions, finely chopped
Method
1

Cut vegetables into 1cm dices.

2

Finely chop the bumbu ingredients. A food processor can also be used.

3

In a very hot wok, add the oil.

4

Add the bumbu paste and cook, stirring well until golden brown (aprox. 2 minutes).

5

Add carrot, cook for 1 minute. Add ingredients one at a time in the following order: cabbage, pepper and onion. Salt and pepper.

6

Add rice, stirring until heated through. Add ketjap and tomato and stir well.

7

Serve in 4 plates. On each plate add 1 egg, fried garlic, fried onions and green onions to garnish.