Italian sausage lasagna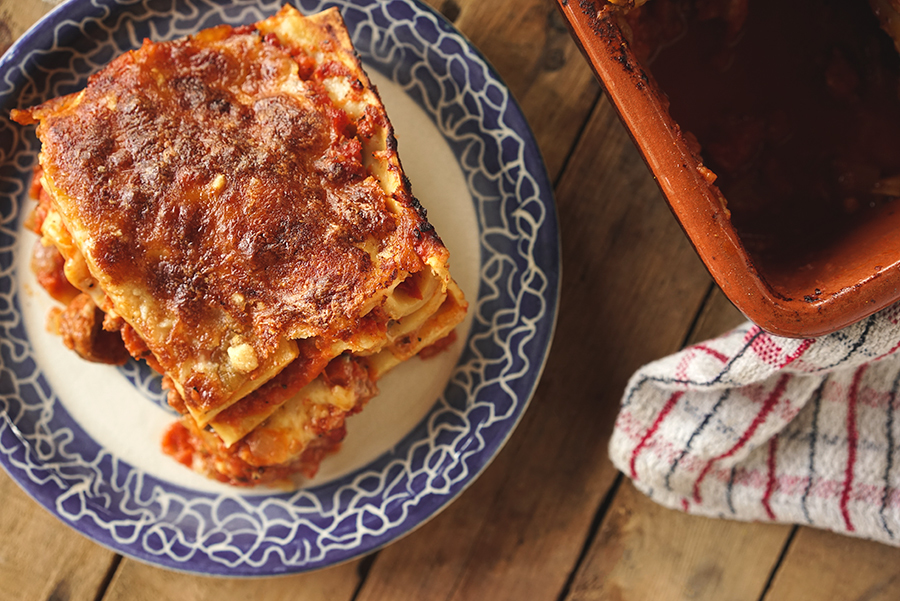 A unanimously beloved, hearty dish, especially when made with an Italian sausage-based tomato sauce.
Sauce
30 Italian tomatoes, diced OR 4 cans of tomatoes, diced
2 Tbsp vegetable oil
2 onions, diced
3 garlic cloves, slivered
5 Italian sausages, cut into 1 ½-cm thick disks
3 Tbsp tomato paste
4 Tbsp Pizza Spice blend or Pasta "staff" spice blend or Little Italy blend
1 Tbsp sugar
Salt and pepper, to taste
Lasagna
16 fresh lasagna pasta strips
500g mozzarella, grated
Sauce
1

Sauté the onions and garlic in oil in a pot on medium-high heat for 4 minutes.

2

Add the sausages and cook for 8 to 10 minutes on medium, stirring occasionally.

3

Add the tomato paste, spices, sugar, salt and pepper. Mix well.

4

Add the tomatoes, mix and simmer on low heat for about 45 minutes.
Lasagna assembly
1

Heat the oven to 350 °F.

2

In a large, rectangular heat-resistant dish, place the sauce, pasta and cheese in successive layers. Repeat 3 times – finishing with a cheese layer.

3

Bake in the oven for about 45 minutes, until the top is golden.