Italian Wedding Soup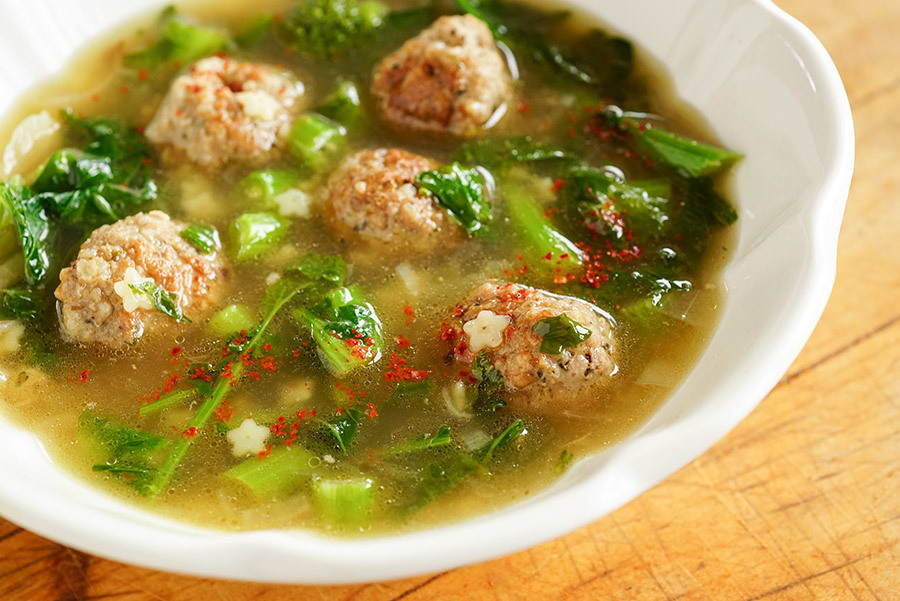 Contrary to popular belief, this soup is not a traditional Italian wedding dish. Its original name, minestra maritata, actually references the marriage of meat and vegetables that is its appeal.
It's impossible to overestimate the number of different versions of this dish. The meatballs are sometimes replaced by sausage and the vegetables can be replaced by spinach, endive, or escarole. The North American version is generally lighter than the original and usually has smaller noodles like stelline, acini di pepe or even orzo.  
Meatballs
1 lb ground veal
1 egg
1 clove garlic, grated
¼ cup bread crumbs
1½ Tbsp parmesan, grated
1½ Tbsp Little Italy Blend
½ tsp salt
1 Tbsp vegetable oil
Soup
2 Tbsp vegetable oil
1 onion, diced
12 cups chicken stock
¾ cup stelline pasta
1 small bunch rapini
Method
1

Mix all meatball ingredients, except for the oil, in a large bowl. Form into small balls about 1 inch in diameter.


2

Heat oil on medium-high. Add oil and sauté meatballs until golden on all sides. Remove meatballs from heat and set aside.

3

In a large pot, sauté onions in oil until translucent, about 8 minutes.

4

Add stock, salt and pepper. Bring to a boil. Add pasta and cook for 10 minutes. Add meatballs and cook for 5 minutes more.

5

Meanwhile, wash and chop rapini stems into ½-inch pieces and leaves into 1-inch pieces.

6

Add rapini to pot. Cover, turn off heat and let rest 5 minutes before serving.