Jamaican Curry Goat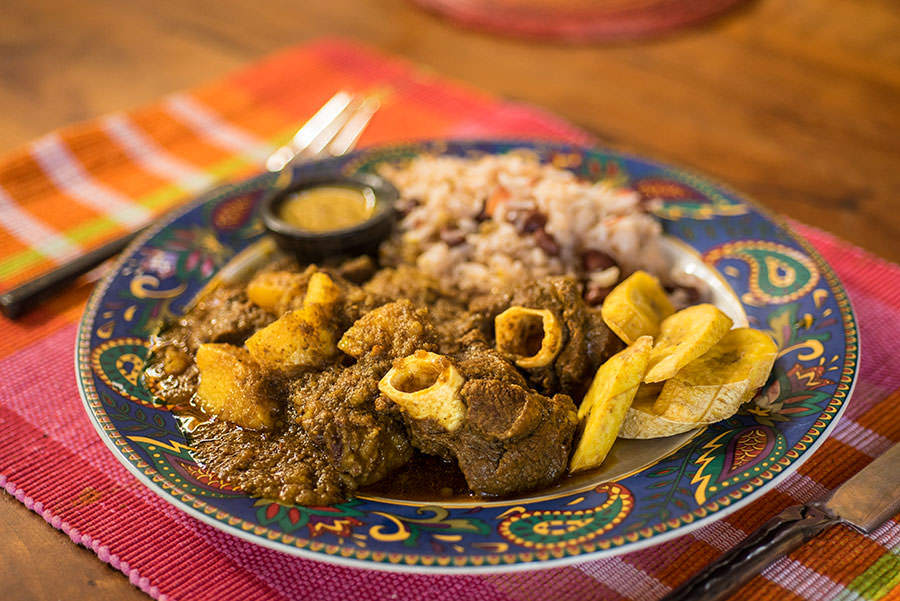 Goat meat is uncommonly tender and is especially flavourful on the bone. In Jamaica, curry is generally served with beans and rice, fried plantains, green salad and, of course, hot sauce.
Ingredients
3½ lb goat meat, on the bone
4 Tbsp Jamaican Curry, ground
1 medium onion
3 green onions
6 cloves garlic
¼ cup coconut oil (or other vegetable oil)
1 large onion, diced medium
Salt and pepper, to taste
4 medium potatoes, cubed large
1 Tbsp ketchup
Method
1

Wash the meat thoroughly, removing any small pieces of bone. Drain and pat dry with paper towels.

2

Place the curry, onion, green onion, and garlic in a food processor and puré. Marinate the meat with the curry paste in the fridge for several hours, or, ideally, overnight.

3

Place a large pot over high heat. Pour the oil, add the diced onion and sautée until brown (8-10 minutes). Add the meat and mix well. The meat should gradually release its juices.

4

Cook, stirring occasionally until the juice is completely evaporated (15-20 minutes). Brown the meat well over a dozen minutes or so.

5

Cover generously with water, and salt and pepper to taste. Bring to a boil. Cook over low heat, covered, until the meat is completely cooked (1-2 hours, depending on what size the meat was cut). Add water as needed.

6

Add the potatoes and ketchup. Cooked uncovered until the potatoes are tender and falling apart and the sauce is thickened to your taste.