Jambalaya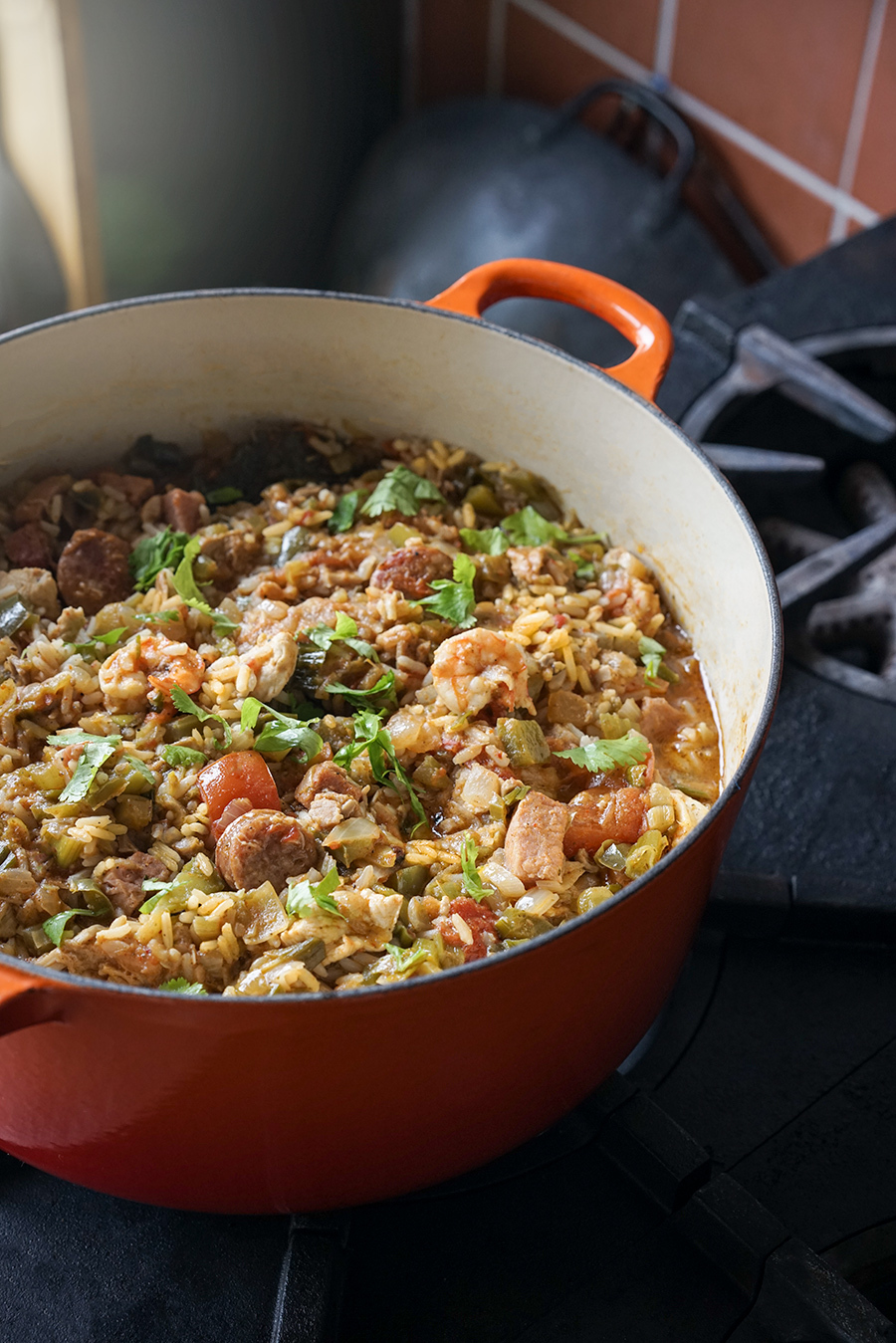 Jambalaya is a classic Louisiana rice dish – worthy of many interpretations. It's generally prepared using chicken, smoked sausage and shrimp, but mixing up the ingredients to personalize your dish is recommended. The smokiness of the ham or sausage alongside the Cajun spices, add a distinctive and authentic flavour to this hearty dish.
Ingredients
2 Tbsp duck fat or lard
200 g sausage or smoked pork, sliced
200 g smoked ham, cubed
2 large onions, sliced
4 celery branches, slivered
1 bell pepper, slivered
2 chicken breasts, cut into 1-inch pieces
3 Tbsp Cajun spices, ground
1 tsp paprika (opt.)
Salt and pepper, to taste
3 garlic cloves, finely chopped
1 Jalapeño pepper, slivered
1½ cup tomatoes, diced
2 cups chicken broth
6 green onions, slivered
2 cups rice
200 g shrimps, shelled
Method
1

Heat a large pan on medium. Add duck fat and sausage. Sauté lightly for 5 to 8 minutes, mixing frequently.

2

Add onion, celery and bell pepper. Sauté 6 to 8 minutes until vegetables are cooked, but still firm.

3

Add chicken and cook on high heat for 1 minute, mixing constantly. Reduce heat, add spices, salt, pepper, garlic and jalapeño. Cook another 3 minutes.

4

Add tomatoes and continue cooking for 6 to 8 minutes, until the chicken is cooked.

5

Add broth and bring to a boil. Add shallots, rice and shrimps. Mix well.

6

Grease a large, oven-proof dish and transfer the jambalaya. Cover with foil and seal well.

7

Cook in oven at 350 °F, for 20 to 30 minutes. The rice should be cooked, but still firm.