Japanese Curry Egg Sandwich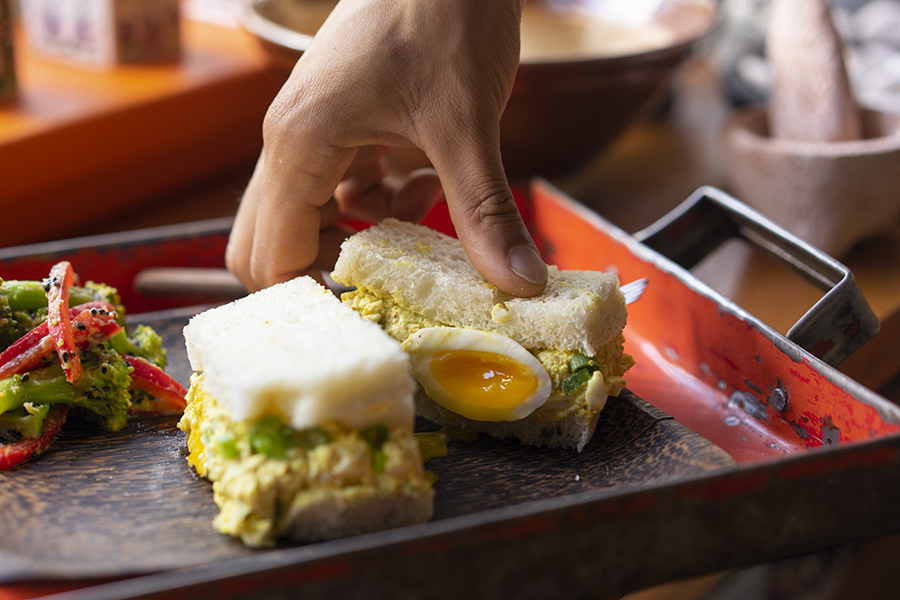 To add a nice texture and an incomparable taste to this sandwich, we incorporate a poached egg. A pinch of Japanese curry is a wonderful final touch! Makes two sandwiches.
Ingredients
4 eggs
⅓ cup mayonnaise
½ Tbsp Soya Sauce (Japanese if possible)
½ tsp sugar
½ tsp toasted sesame oil
1 Tbsp Japanese curry, ground
2 green onions, sliced
Salt and pepper to taste
4 slices of bread
Method
1

Put the eggs in a pan of cold water and place on high heat.

2

Set the timer to 6 minutes, once the water begins to boil. Remove one egg from the pan and place in a bowl of cold water to stop cooking. Set aside the soft boiled egg for assembling the sandwiches.

3

Allow the remaining eggs to boil for 4 more minutes until hard-boiled.

4

Cool the eggs and remove the shells.

5

Blend the mayonnaise, sugar, sesame oil, spices, green onion, salt and pepper together.

6

Chop the hard-boiled eggs and incorporate the mayonnaise. Taste and correct the seasoning if necessary.

7

Separate the egg salad on to 2 slices of bread. Cut the soft boiled egg in two and put one half into each sandwich.

8

Close the sandwiches and apply pressure delicately. Remove the crust from the bread if desired and cut the sandwiches in two.