Japanese Pork Curry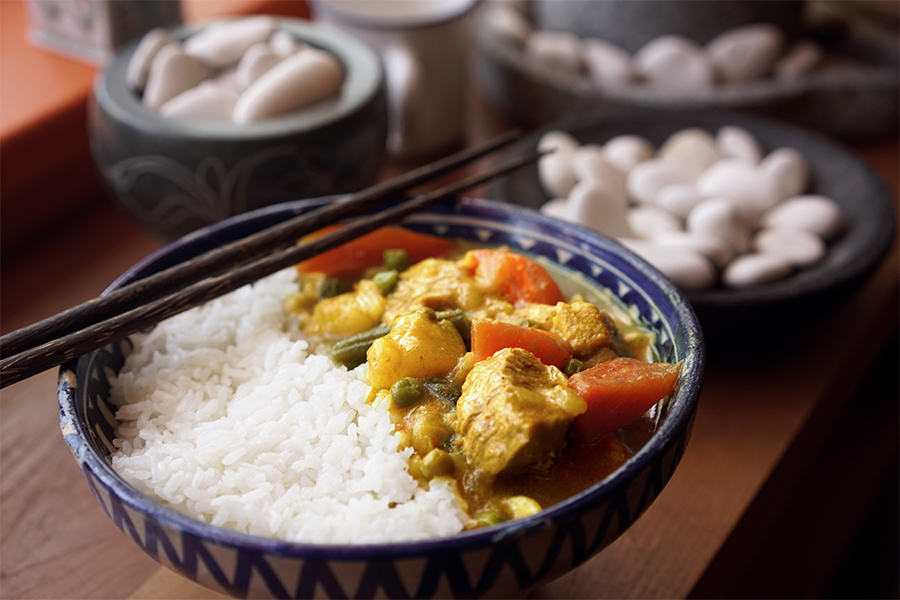 This is without a doubt the epitome of comfort food for many Japanese families. Pork, chicken, shrimp or tofu; feel free to choose your own source of protein. You can also switch up the vegetables, but potatoes and carrots are expected. For many, green peas are also a must.
Ingredients
2 onions, sliced
4 Tbsp vegetable oil
5 Tbsp flour
2 Tbsp Japanese Curry, ground
1 pork tenderloin (1lb) cut in 1 – inch cubes
4 cups water
2 cups 1 – inch cubed potatoes
2 cups 1 – inch cubed carrots
1 cup green beans cut into 1 – inch pieces
1 cup 1 – inch cubed zucchinis
1 cup green peas
Salt to taste
1-4 Tbsp sugar, to taste
1-2 tsp Worcesteshire sauce OR Japanese soy sauce
Method
1

Place onions and oil in a large pan. Heat on medium and sauté lightly for a few minutes until the onions are translucid.

2

Incorporate the flour and stir without stopping for 1 minute. Incorporate the ground Japanese curry for another minute, while mixing.

3

Add the pork and cook for another 2-3 minutes, stirring occasionally to blanch the meat.

4

Add the water and potatoes then bring to a boil.

5

Add the carrots and boil for 5 minutes.

6

Incorporate the green beans, zucchini, peas, salt and sugar.

7

Cook until the vegetables are al dente. Incorporate the Worcestershire sauce.

8

Serve with steamed rice.