Lamb Shank with Fruit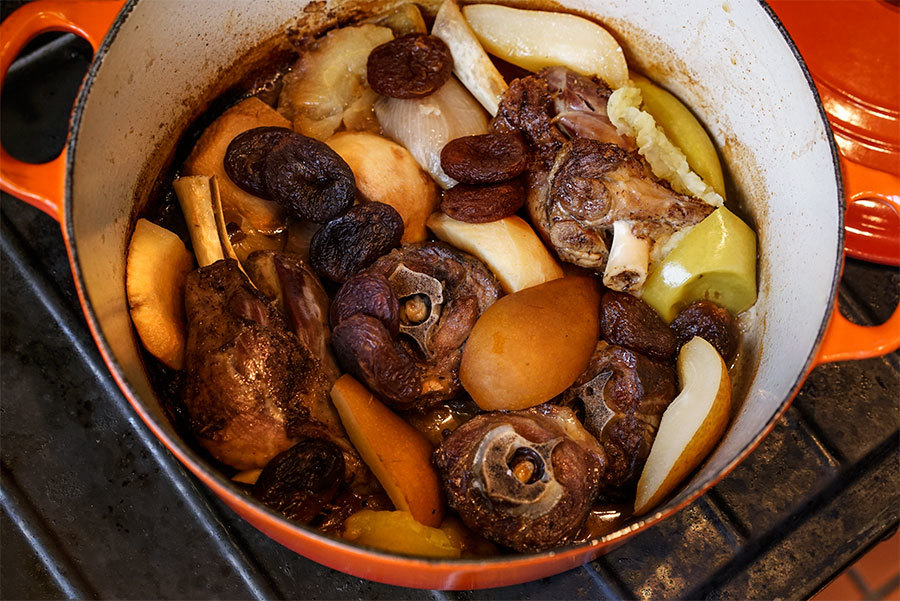 This recipe is inspired by classic Turkish flavors. Splash some pek mez (Turkish grape molasses) on the lamb before serving if you want something sweeter. If, however, you want an acid side, just sprinkle on some lemon juice.
Ingredients
½ tsp cinnamon
1 tsp black pepper
4 tsp salt
4 lamb shanks or 4 veal shank slices
4 Tbsp lamb fat or coconut oil
4 shallots
1 green apple
1 quince
1 firm pear
½ cup dried apricots
Method
1

Mix salt with spices. Rub all over the lamb shanks.

2

Choose a large pan that can fit a cover or plate. Place lamb and fat in the pan. Place pan on medium-low heat and cover.

3

Cook for 15 minutes. Flip meat. Place whole shallots around shanks. Cover partially and cook for 15 minutes more.

4

Flip meat 3 more times, once every 15 minutes.

5

Core and quarter fruit. Place fruit quarters around lamb shanks, and disperse apricots on top of the fruit and meat. Cover and continue cooking for 15 minutes more.