Kabsa Roast Vegetables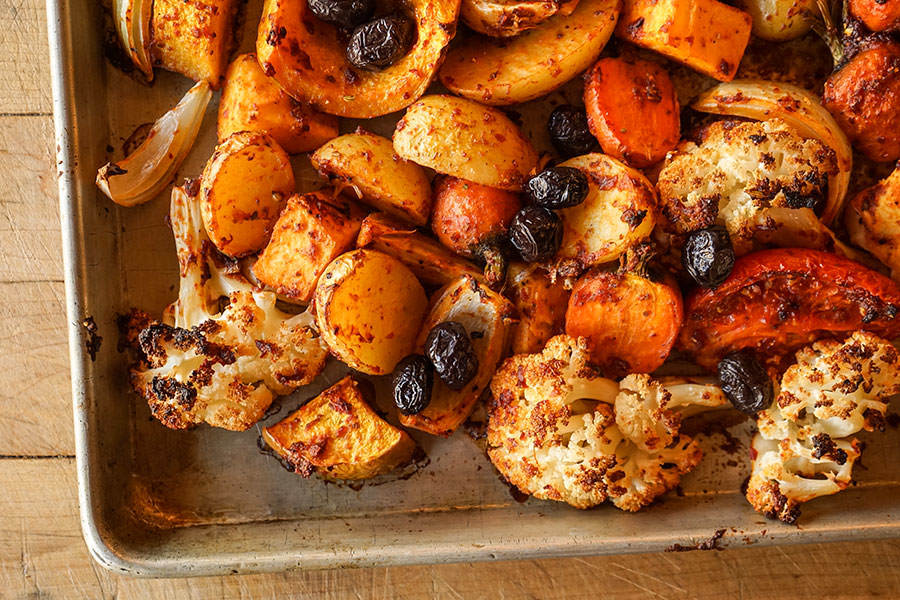 The secret for success in this recipe is simple: just be sure to cut all the vegetables the same size.
Ingredients
1 cup turnip, cut
1 cup carrots, cut
1 new potatoes, halved or quartered
1 cup parsnip, cut
1 cup cauliflower, in florets
1 cup onions, quartered
12 cloves garlic, unpeeled
1 cup firm tomatoes, halved
¼ cup Turkish sweet pepper paste or tomato paste
Salt to taste
½ cup olive oil
2 Tbsp wine vinegar
3 Tbsp Kabsa spice blend, ground
1 Tbsp sugar
½ cup black olives
Parsley or dill, for garnish
Method
1

Preheat oven to 425°F.

2

Put all the vegetables in a large bowl.

3

Stir together pepper or tomato paste, salt, oil, vinegar, spices, and sugar in a bowl.

4

Pour the mixture over the vegetables and mix well.

5

Place all the vegetables on a large roasting try and cook in the oven for 30 minutes. Check their level of doneness and cook longer if necessary. When they are almost finished cooking, add the olives and cook for another 30 minutes.

6

Serve hot or at room temperature, and garnish with chopped parsley or dill.