Kale and Portuguese Chouriço soup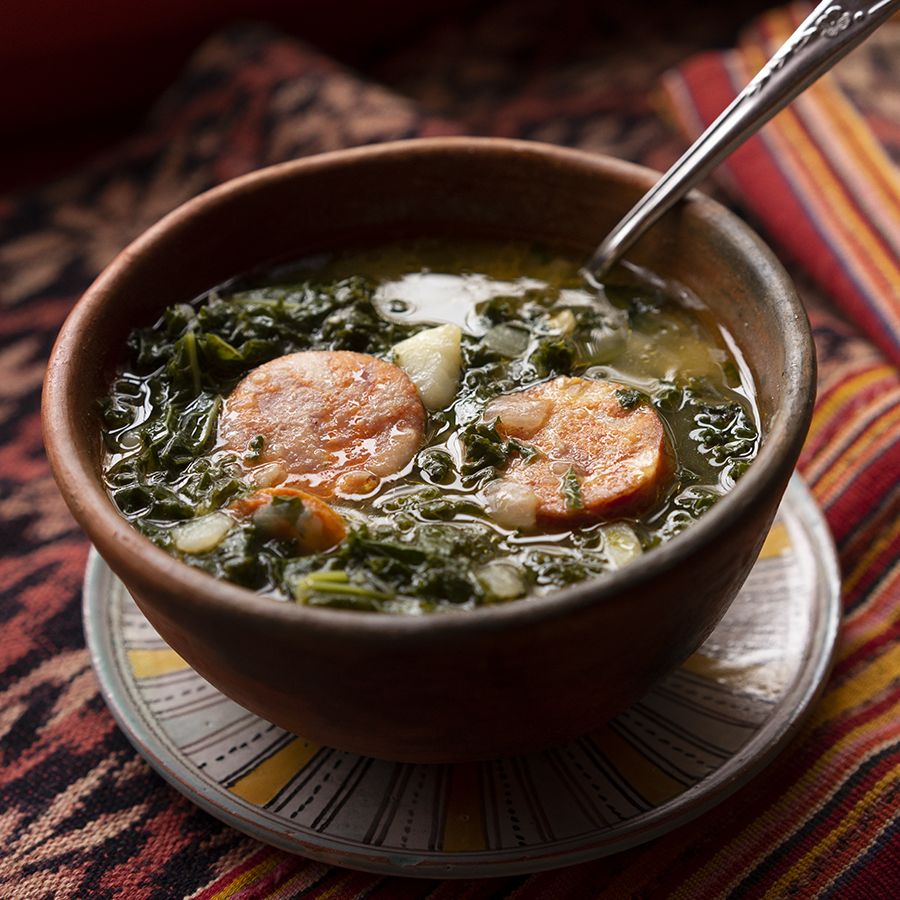 A simple recipe where the choice of ingredients makes all the difference. The Russet potatoes fall apart in the soup and deliver a velvety texture. The red potatoes retain their firmness. The combination of the two makes for creamy soup with chunks of potatoes. We like to make this soup with traditional Portuguese chouriço, but note that it's equally delicious with Spanish chorizo.
Ingredients
1 large bunch of kale/Collard greens
2 large Russet potatoes
3 medium red potatoes
250 gr Portuguese chouriço
4 Tbsp olive oil
2 medium onions, chopped
2 garlic cloves, chopped
2 Tbsp Layover in Portugal spice blend, ground
8 cups water
Salt to taste
Method
1

Wash the kale and remove the mature stems. Finely slice the kale leaves.

2

Peel the potatoes. Cut the Russet in thin slices. Cut the red potatoes into ¾ -inch cubes.

Cut the chouriço into rings.

3

Heat a large pan on medium and pour in the oil. Sauter the sliced chouriço for a few minutes until the oil becomes red.

4

Remove the chouriço and set aside. Add the chopped onions to the pan and sauté for 3 to 4 minutes in the oil. Incorporate the garlic and ground spices. Cook for another minute, stirring constantly.

5

Add the water and potatoes to the pan. Bring to a boil, lower the heat and let simmer. Salt to taste then cover. Cook until the Russets fall apart. Stir well using a whisk to make the soup creamy.

6

Add the kale and chorizo. Let simmer for another fifteen minutes. Taste and adjust for salt if necessary. Add some water if the soup is too thick.