Kale Nut & Pomegranate Salad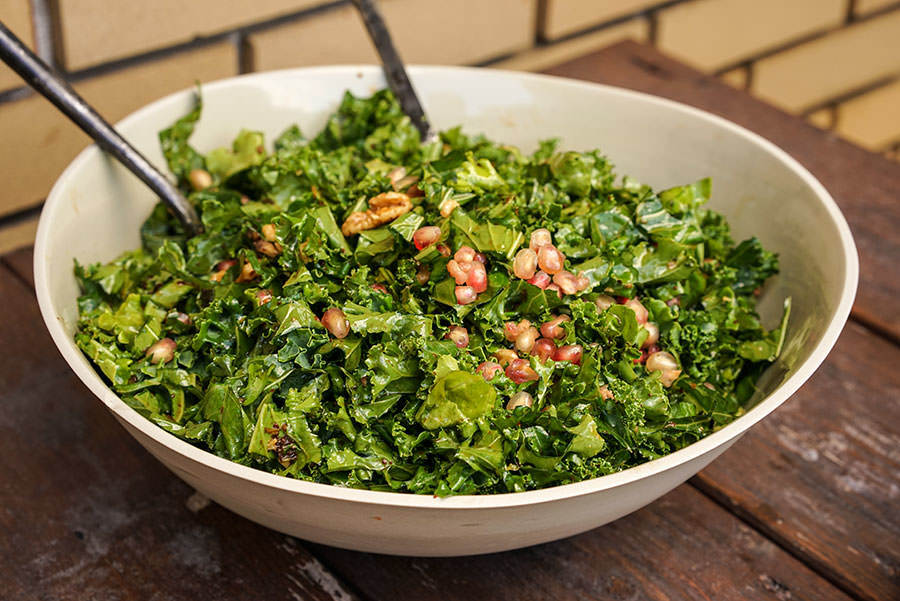 It may seem strange to "massage" your kale at first, but it's a great way to tenderize leaves that are often quite tough. The dressing keeps for a few days in the fridge if you end up with extra.
Ingredients
1 kale bunch kale
1 tsp sea salt
1 pomegranate
1 cup walnuts
Dressing
¼ cup pomegranate molasses
1 bunch scallions, sliced thin
1 clove garlic, grated fine
1 tsp honey (opt.)
1 Tbsp Aleppo Pepper or Gorria Pepper, ground
½ cup nut oil
Method
1

Wash and dry kale. Remove stems. Roll leaves and chop cabbage into tiny pieces. Add salt, mix well and "massage" kale vigorously in a salad bowl for about a minute.

2

Make dressing by stirring ingredients together in a bowl.

3

Remove seeds from pomegranate and add to bowl. Chop nuts roughly and add to bowl. Add dressing, toss, and, if desired, let stand 10-15 minutes.

4

Toss again just before serving.
An ancient ingredient, pomegranate molasses is made by boiling down fresh pomegranate juice until it is thick enough to keep without preservatives. This fruity, sweet and sour syrup is used in salad dressings, marinades, sauces, or simply as a finishing touch. We like to call it the Middle East's balsamic vinegar. The best brands contain no sugar or other added ingredients, only pomegranate.