Kashmiri Spinach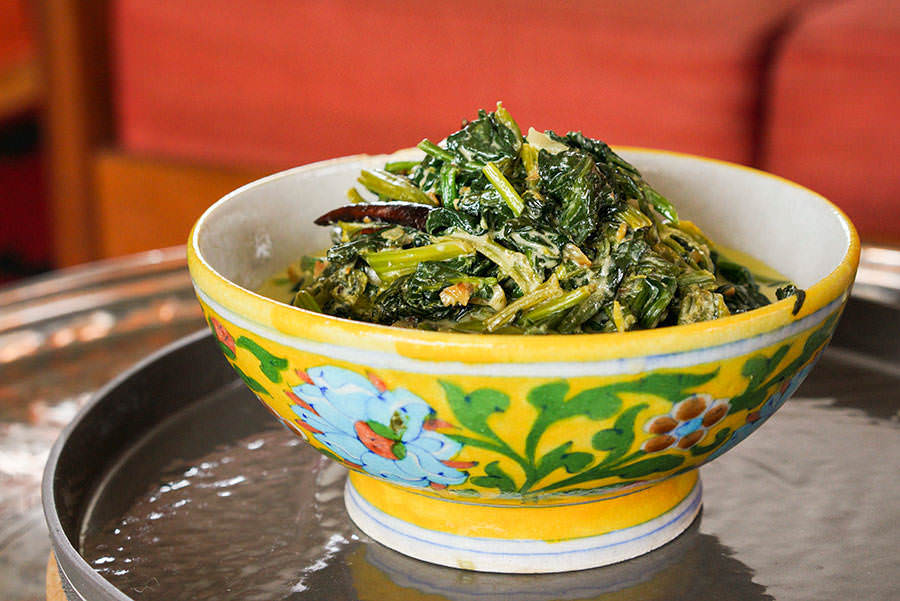 Creamy and spicy spinach! Serve with an indian lentil dish or a meat or chicken curry.
Ingredients
2 packages spinach
4 Tbsp ghee or olive oil
1 Tsp cumin seed
2 dried shallots sliced in strips
½ tsp salt
1 tsp sugar
½ tsp Kashmiri garam masala (or any other garam masala), ground
¼ cup yogurt
4 Tbsp fresh cream (optional)
Method
1

Wash spinach thoroughly in running water and dry in salad spinner.

2

Heat large saucepan over medium heat. Add oil and whole chilis and cook a few seconds.

3

Add cumin seeds and cook three or four seconds.

4

Immediately add shallots and mix well. Cook until shallots caramelize (one minute).

5

Raise heat to high and add spinach, salt, sugar, and garam masala.

6

Mix until spinach is completely wilted (five minutes).

7

Beat yogurt and cream together well and add to spinach mixture. Let simmer five more minutes and serve.