Cherry Kebab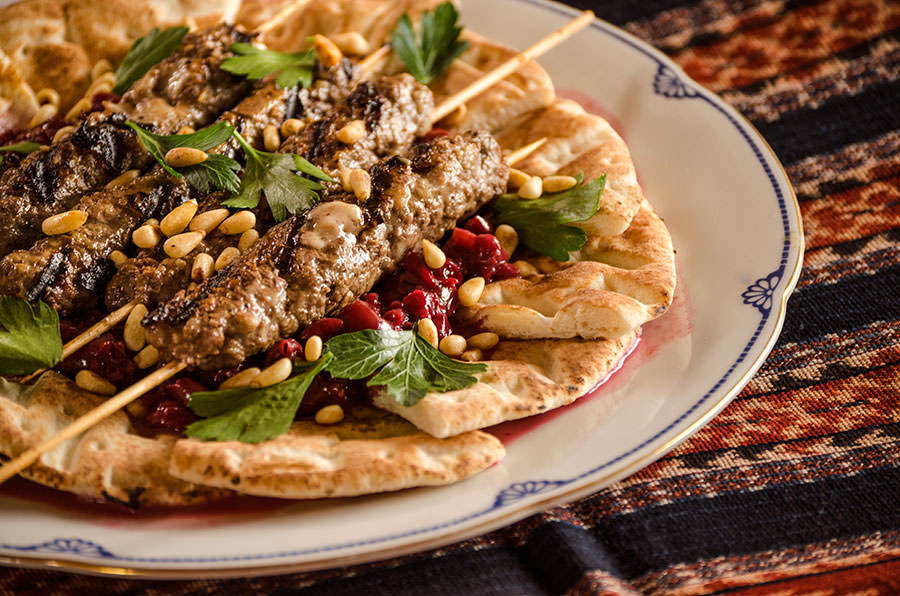 Cherry sauce is an Aleppo specialty. It is served with cubed or minced meat kebabs. Versions vary, but the flavors remain the same. This sauce is particularly delicious with lamb chops.
Ingredients
1 lb lamb or veal, minced
¼ cup onions, grated
½ cup Aleppo cheese or mozzarella, grated
2 tsp Aleppo seven spices, ground
salt to taste
Sauce
One 24 oz (600 ml) jar of sour cherries, pitted
1 cup sour cherry juice
salt to taste
½ cup thick cream
Accompaniment and garnish
Pita bread, cut into triangles
¼ cup grilled pine nuts
parsley, chopped
Method
1

Mix meat, onions, cheese, spices and salt in a bowl. Let rest for 1 hour, refrigerated.

2

Shape meat into kebabs using 4 skewers, or make 16 flat patties.

3

Crush cherries using a fork. Cook in a pan with the cherry juice and salt. Boil on low heat until sauce thickens. Pour in cream, and boil for 2 more minutes. Set aside.

4

Cook kebabs on a grill on medium heat for 6 to 8 minutes, turning occasionally. Otherwise, cook the meatballs on the stove using a grilling skillet.

5

Place pita triangles on a plate; pour sauce over the pita. Add kebabs and garnish with pine nuts and parsley.