Kebbeh bil sinieh – Baked bulgur and ground beef pie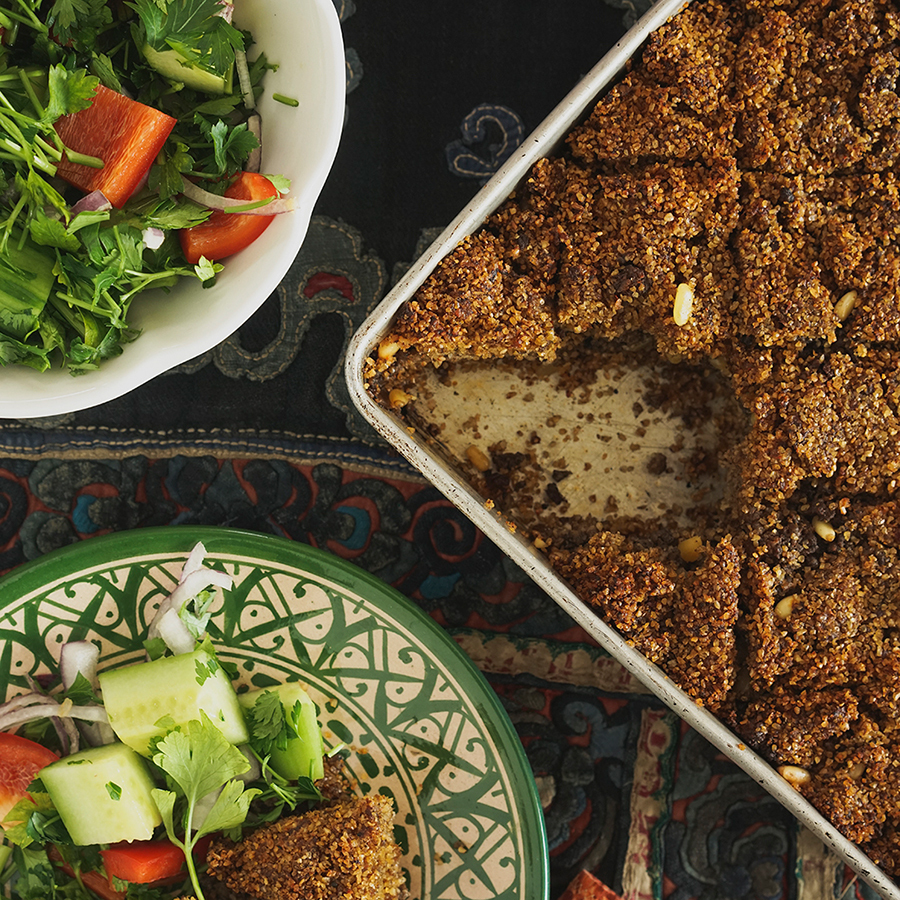 Kebbeh (or kibbeh) is a dish made with bulgur and ground meat which is very popular in Levantine cuisine. This version simplifies the traditional recipe by making a layered pie, which is cooked in the oven, avoiding deep frying. Serve hot or at room temperature with a taratur sauce or garlic yogurt.
Stuffing
1 Tbsp vegetable oil 
1 onion, slivered 
1½ lbs ground beef
1 tsp allspice, ground  
Salt, to taste 
¾ cup pine nuts 
Bulgur mixture
Stuffing
1

Heat a pot on medium-high. Add oil and onion. Sauté for 3 minutes. 


2

Add ground meat, allspice and salt. Sauté about 10 minutes, stirring to separate and spread the meat evenly.


3

Let cool, then add pine nuts. Mix well.
Kebbeh
1

Heat oven to 350 °F.

2

Mix raw ground meat and bulgur in a bowl, using your hand.

3

Add remaining ingredients, except the oil and mix well.

4

Brush half the oil on a 13-inch X 9-inch rectangular baking dish or pan.

5

Spread half the bulgur preparation into the mold. Apply pressure with your hands to create an even layer.


6

Spread stuffing on the first layer.

7

Evenly place the second layer of bulgur preparation on the stuffing.

8

Using a knife dipped in warm water, make diagonal cuts across the kibbeh.

9

Brush with remaining oil and cook in the oven for 50 minutes to 1 hour.