Kedgeree – Indian Rice with Smoked Fish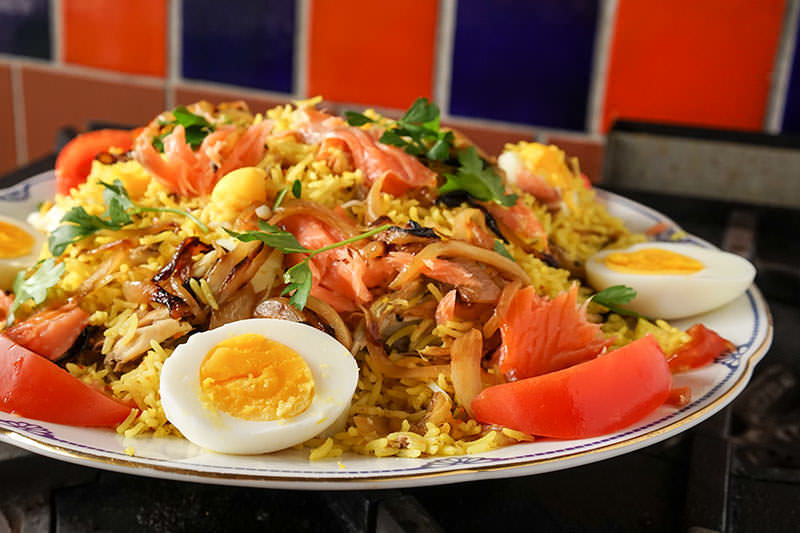 An Anglo-Indian dish from the old British Empire. Often served at breakfast time, it's an excellent and copious brunch, but also makes an easy-to-prepare dinner. It's traditionally made from smoked, salted haddock, but any smoked fish is a good choice. The secret is to poach the fish in milk or water for a few minutes to desalinate it.
Ingredients
6 eggs
1½ cups basmati rice
4 Tbsp butter
1 chopped onion
1 clove garlic, minced fine
1 Tbsp fresh ginger, minced or 1 tsp dry ginger, ground
1½ Tbsp Meen Masala, ground
2 medium onions, sliced
4 Tbsp butter
500g smoked fish of your choice (mackerel, salmon, haddock…)
1½ cups milk
Juice of one lemon
Parsley for garnish
Method
1

Place the eggs in a pot of cold water. Bring to a boil, turn off heat, and let stand for 10 minutes. Chill the eggs in cold water and remove the shells. Set aside.

2

In a colander, rinse the rice under running water until its clear. Let drain.

3

Heat a large pot on medium. Add the butter then the onion, sautéing until it's translucent.

4

Add the garlic, ginger, and spices. Cook for 2 minutes. Pour the rice into the pot and stir until the rice is a little yellow.

5

Add 2½ cups of water. Bring to a boil. Cover and cook over low heat for around 20 minutes.

6

Meanwhile, cook the remaining onions with the butter in a pot until they're well-cooked and lightly caramelized. Set aside.

7

Place the fish in a small pot with the milk. Heat and poach for 5 minutes.

8

To assemble the dish: slice the eggs into halves or quarters. Remove the fish from the milk, remove the skin and break apart into large pieces with a fork. Place the fish, eggs, and onions in the pot of rice. Pour the lemon juice over the rice, stir delicately and garnish with parsley.