Kerala Egg Roast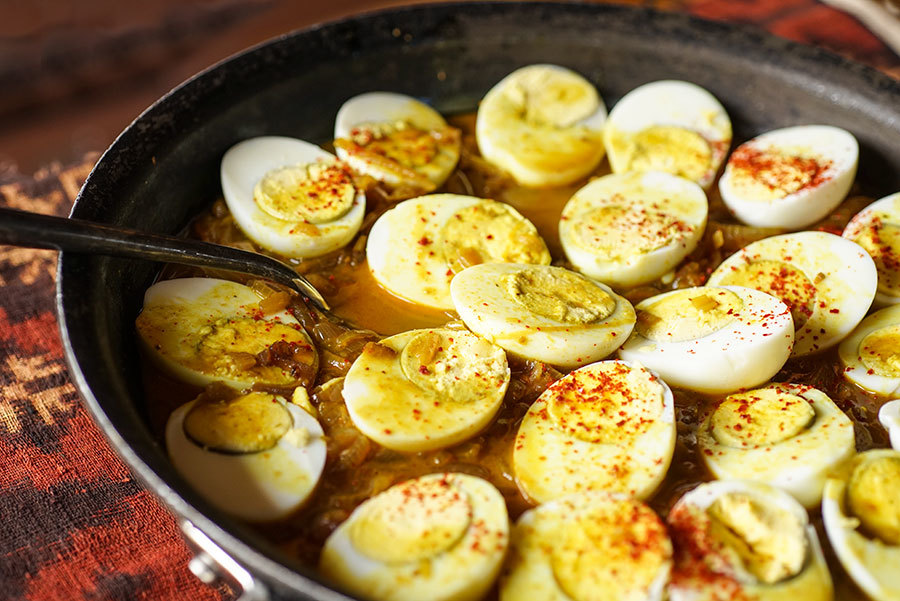 A common weekday recipe in the south of India, Egg Roast is simple and satisfying onion-based sauce. Its use of toasted cinnamon and cinnamon leaf adds a deep aromatic base and light brown color. The eggs are traditionally added to the curry whole, but can be sliced and added later as well. The Roast part of the title remains a mystery, like so much of Kerala.
Method
1

Peel onions and slice them thinly.

2

Add oil to a pot on medium-high heat. Add onions and cook until softened and beginning to darken, 12-15 minutes.

3

Meanwhile, grind spices and mix together in a bowl.


4

Add spices to pot and cook for 2-3 minutes.



5

Add water and stir. Bring to a boil, then reduce heat to medium.

6

Simmer onions until they are falling apart and most of the water has evaporated. Add more water if necessary.


7

Add eggs, whole or slices, to curry and simmer 1-2 minutes longer.