Kharcho - Georgian Beef Soup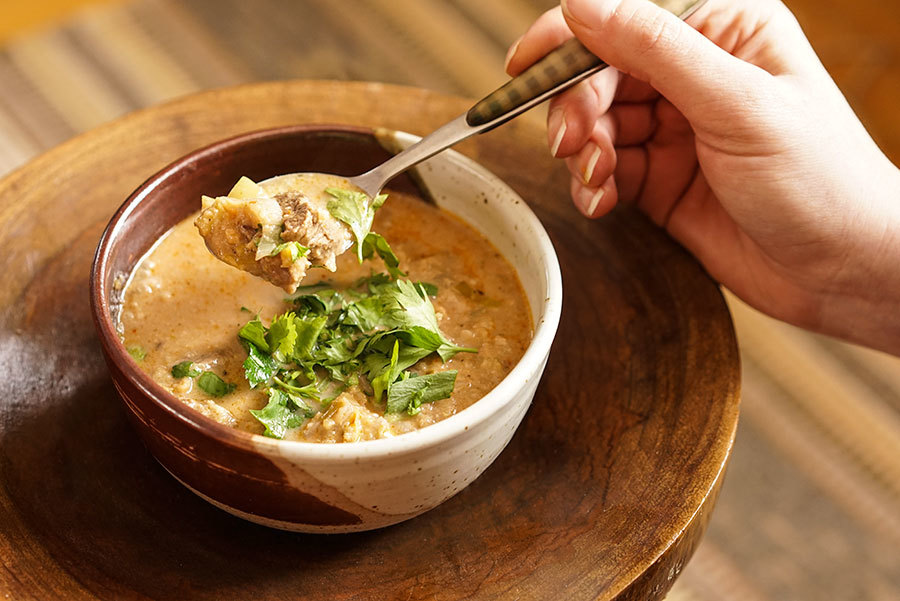 Kharcho is a beef soup from Georgia. It's also great when made with chicken, veal, or lamb.
Ingredients
2 lbs stew beef cubes
1 lb beef bones
12 cup water
1 handful parsley stems
½ cup dried apricots
2 large onions
4 Tbsp clarified butter
¼ cup rice
3 Tbsp tomato paste
1 medium leek, sliced
1 Tbsp Aleppo pepper
1 tsp coriander seed
½ tsp caraway
1 tsp thyme
4 cloves garlic
½ cup walnuts
Salt and pepper to taste
1 lemon
2 cups herbs (dill/parsley/cilantro)
Method
1

Wash the meat and bones well in warm water. Place in a large pot with the water and parsley stems. Bring to a boil, skim, add pepper and bay leaf, then reduce heat. Cook on medium-high until the meat is tender, around 1½ hours. Strain the stock and set meat aside.  

2

Meanwhile, dice apricots, place in a bowl and cover with boiling water. Set aside.

3

Place onions and clarified butter in a pot and sauté for 3-4 minutes. Add rice, tomato paste and leek. Sauté for another 2 minutes and add beef stock. Simmer for 30 minutes.

4

Grind spices in a mortar, add garlic and 1 tsp salt, then grind to a purée. Add drained apricots and nuts, then pound into a chunky purée.  

5

Pour the purée into the soup. Cook for another 5 minutes. Salt and pepper to taste.

6

Add lemon juice and herbs.