Kibbeh nayyeh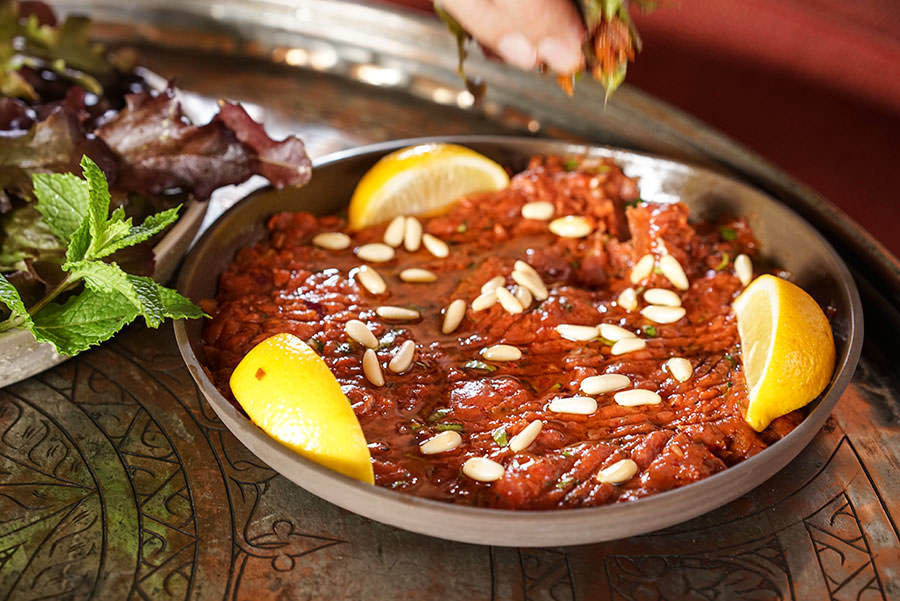 Kibbeh nayyeh (or kebbé nayé) is a lamb tartar popular around the Middle East. It usually has soaked bulgur, which we omit for a Paleo version.
Ingredients
1½ lbs lean lamb leg meat
1 small onion
4 Tbsp parsley, chopped
2 Tbsp mint, chopped or 1 Tbsp dried mint
2-4 Tbsp Aleppo pepper or paprika
½ tsp Aleppo Seven Spice or Garam Masala, ground
1 Tbsp tomato paste
3 Tbsp olive oil
Salt to taste
Mint leaves, olives, pine nuts and lemon quarters for garnish
Lettuce leaves for serving
Method
1

Cut meat into 2-3 cm cubes. Place 1/3 of the meat into a food processor. Grind, by pulsing, without puréeing. Repeat with remaining meat in two batches. Place ground lamb into a bowl.

2

Dice onion and place in the food processor with chopped mint and parsley, Aleppo pepper, spices and tomato paste. Grind finely to mix it all together.

3

Place the paste into a bowl and mix with a fork to incorporate oil. Taste and adjust seasoning.

4

Spread on a platter with mint leaves, pine nuts and lemon quarters. Sprinkle on some olive oil and serve.