Kimchi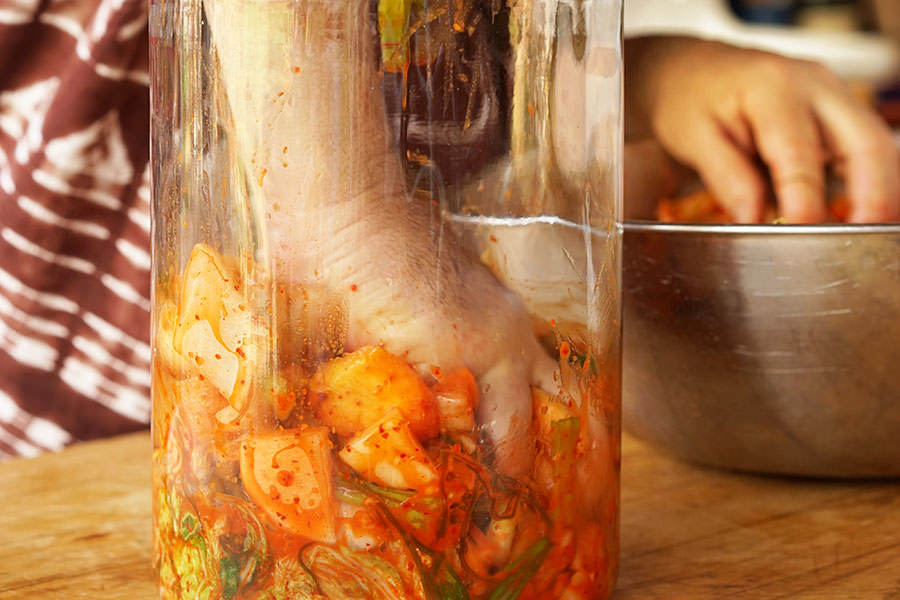 Choose a nice Napa cabbage with some green leaves. Don't be shocked by the amount of salt in the recipe- most of it will be discarded.
Kimchi will keep for several months (they are at their most crunchy and fresh during the first 4 weeks).
Ingredients
2 cups sea salt
1 Napa cabbage
1 Asian pear
2 medium carrots
¼ cup kombu, julienned (opt.)
½ cup Korean pepper or more
2 tbsp fish sauce (opt.)
8 cloves garlic
3 tbsp ginger
1 tbsp salt
2 bunches scallions
Method
1

Wash your hands thoroughly before starting. Pour salt and 8 cups water into a large bowl. Stir to dissolve salt.

2

Wash cabbage and slice a cross 3 inches deep into the bottom. Tear into four quarters. Immerse quarters in the brine for 2 minutes. Flip and soak for 2 more minutes.

3

Drain cabbage and place in a bowl. Cover and let rest for 8-10 hours at room temperature. Discard brine.

4

Rinse cabbage under running water, pulling apart the leaves as you go. Let drain in a colander for 5-10 minutes.

5

Meanwhile, wash and quarter pear. Remove core, then chop. Peel and slice carrots into rounds. Place kombu, pear and carrots in a large bowl.

6

Place Korean pepper, fish sauce, garlic, ginger, remaining tablespoon of salt and ¾ cups water into a food processor and purée. Incorporate the purée into the vegetables.

7

Cut cabbage and scallions into 1-inch pieces. Mix into vegetables. Place in sterilized jars and press down firmly in order to remove air bubbles and fully immerse vegetables in the juice.

8

Place jars on a plate and put covers on top without screwing shut.
Ferment for 2-3 days in a cool place, protected from sunlight. Kimchi is ready 24 hours after the brine starts bubbling.

9

Wipe jars and rinse covers. Close tightly and store in the fridge.