Korean Bean Sprout Salad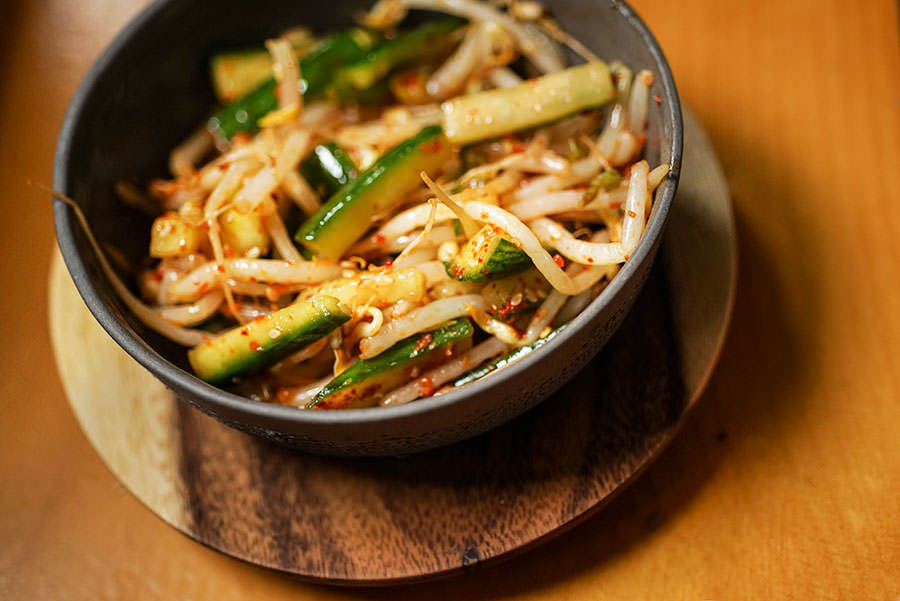 This fresh, crunchy salad, with just a touch of heat from the Korean pepper, is a great side to all sorts of dishes. It's important to blanch the bean sprouts and salt the cucumbers for the perfect texture.
Ingredients
4 cups bean sprouts
1 English cucumber
3 Tbsp salt
½ cup rice vinegar
3 cloves garlic, grated
2 Tbsp ginger, grated
5 scallions, sliced thin
3 Tbsp Korean pepper
1 Tbsp sugar
3 Tbsp sesame oil
¼ cup sesame seeds
Method
1

Bring 8 cups of water to a boil in a medium pot. Rinse bean sprouts, add them to the pot and blanch for 10 seconds. Immediately pour them into a colander and drain. Do not rinse.

2

Slice cucumbers into ¼-inch X ¼-inch X-2 inch sticks. Place in a bowl with salt and mix well. Let drain for 10 minutes.

3

Rinse cucumber in running water and squeeze water out with your hands.

4

Pour rice vinegar, garlic, ginger, scallions, chile, sugar and sesame oil into a bowl.

5

Heat a small pan on medium-high and toast sesame seeds until golden. Pour into vinaigrette immediately. Stir well.

6

Add the blanched sprouts and cucumber. Stir well and taste. Add salt if necessary.