Korean grilling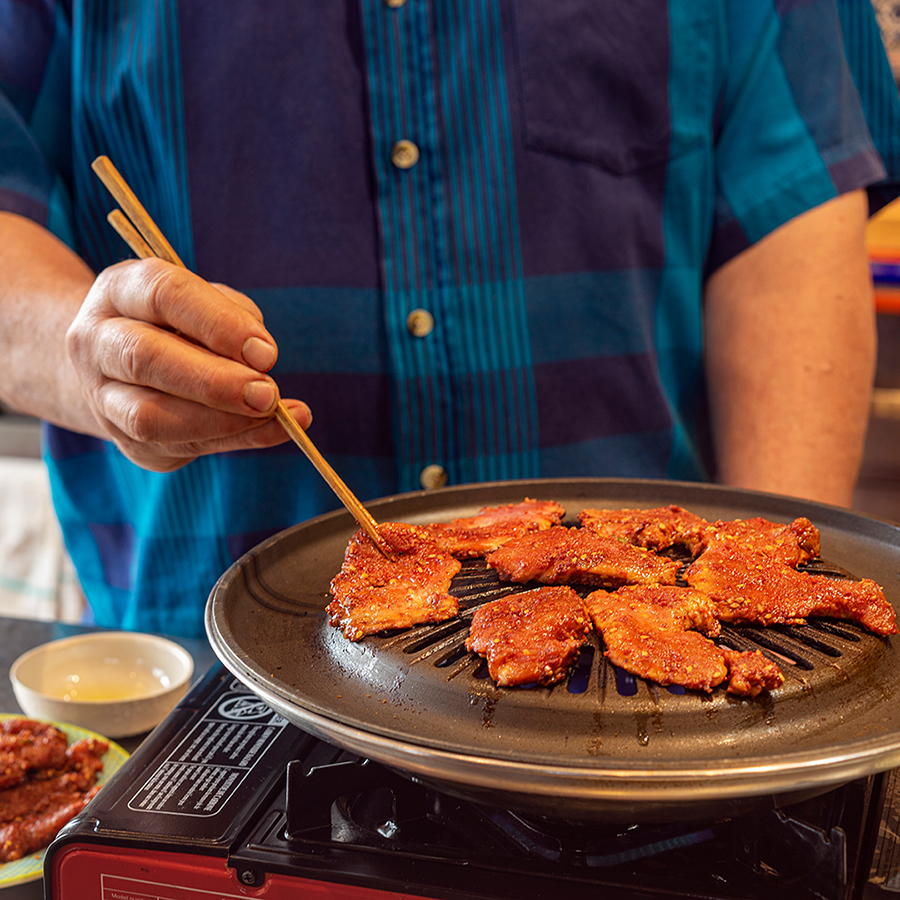 This recipe is wonderful with beef or deboned chicken. It's important to marinate the slices of meat of your choosing – for at least 1 hour before grilling. Even though this particular grilling method is traditionally done in the center of the dining table, using a Korean grill, a regular or striated cast-iron pan works just as well.
Ingredients
500 gr pork filet
2 Tbsp Korean BBQ spices
2 Tbsp soya sauce
1 Tbsp grilled sesame oil
1 tsp rice vinegar
1 tsp maple syrup OR sugar
1 tsp grilled sesame oil for the grill
12 tender lettuce leaves
3 Tbsp roasted sesame seeds
2 dry shallots, finely slivered
½ Asian pear, julienned
Method
1

Cut meat into 3/8 – inch thick slices.

2

Add spices, soy sauce, grilled sesame oil, rice vinegar and maple syrup to a medium-sized bowl.

3

Add meat and mix well. Cover and let rest in a cool place for at least 1 hour.

4

Place the remaining ingredients on a dish.

5

Heat the grill or pan on medium. Brush on grilled sesame oil lightly and place meat slices on the grill for 1 – 2 minutes, turn over and cook for 1 more minute.

6

Invite everyone to place a slice of meat on a lettuce leaf with the ingredients of their choice. Roll and bon appétit!