Korean-inspired hamburger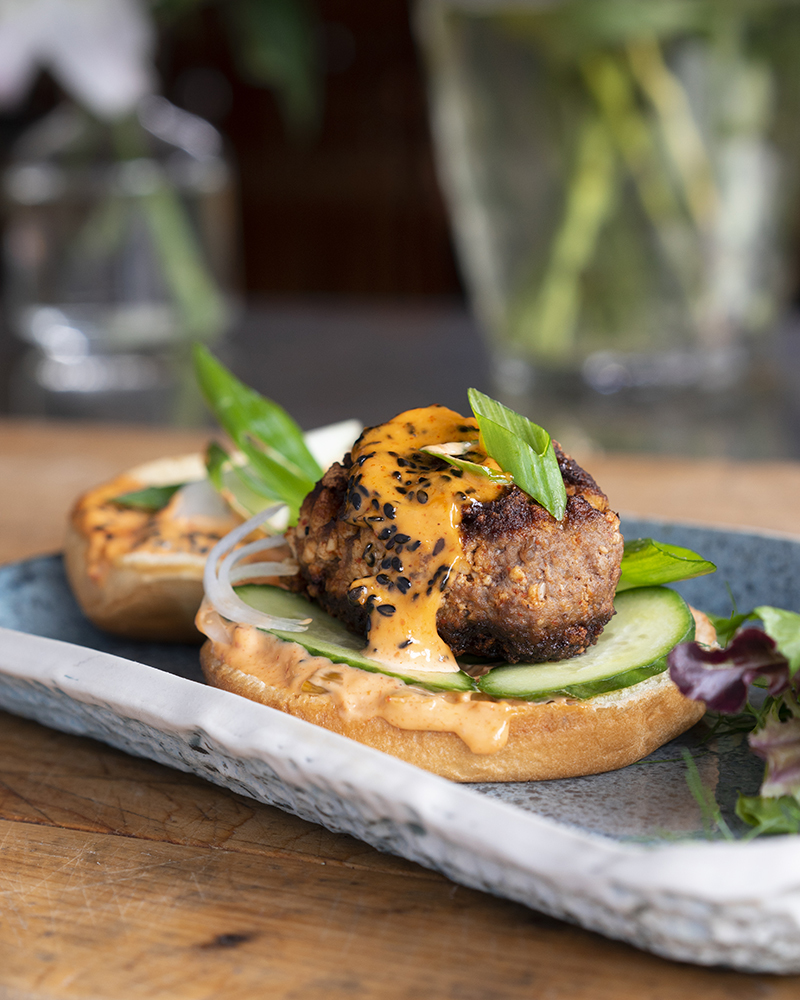 This Korean, street food-inspired hamburger, has just a hint of heat which combines deliciously with the freshness of cucumbers and scallions as garnishes. We're sure that the kimchi-infused mayonnaise will be a « must » for all your future hamburgers!
Ingredients
200 gr fresh tofu, medium-firm
½ cup panko breadcrumbs
½ tsp salt
3 Tbsp Layover in Korea spice blend, ground or Korean BBQ
2 Tbsp Shoyu (Light Japanese soy sauce)
3 Tbsp water
500 gr ground beef
4 Tbsp black or white sesame seeds
½ cup Kimchi, drained
2 Tbsp Gojuchang or Korean pepper (opt.)
1 cup mayonnaise
1 Tbsp sesame oil
Scallions, sliced
1 Cucumber, sliced
3 Tbsp vegetable oil
8 hamburger buns
Method
1

Place the tofu in a bowl and crush into small pieces, using your hands.

2

Add the panko, salt, Layover in Korea spice blend, shoyu and water to a large bowl. Mix well. Evenly incorporate the ground beef.

3

Divide into 8 equal balls. Shape the balls into ovals and flatten lightly. Set aside.

4

Roast the sesame seeds in a hot pan until odorant. Pour into a bowl. Chop the kimchi finely and drain, then incorporate the sesame with the Gojuchang. Blend into the mayonnaise and set aside.

5

Heat a pan on medium-high, add oil. Cook the meat patties for 5 minutes on one side, then turn over. Lower the heat slightly, then cook the other side, covered for 5 minutes.

6

Garnish the buns with mayonnaise, cucumber slices and scallions. Place the patties in the buns and serve.