Korean Spiced Mushroom Papillote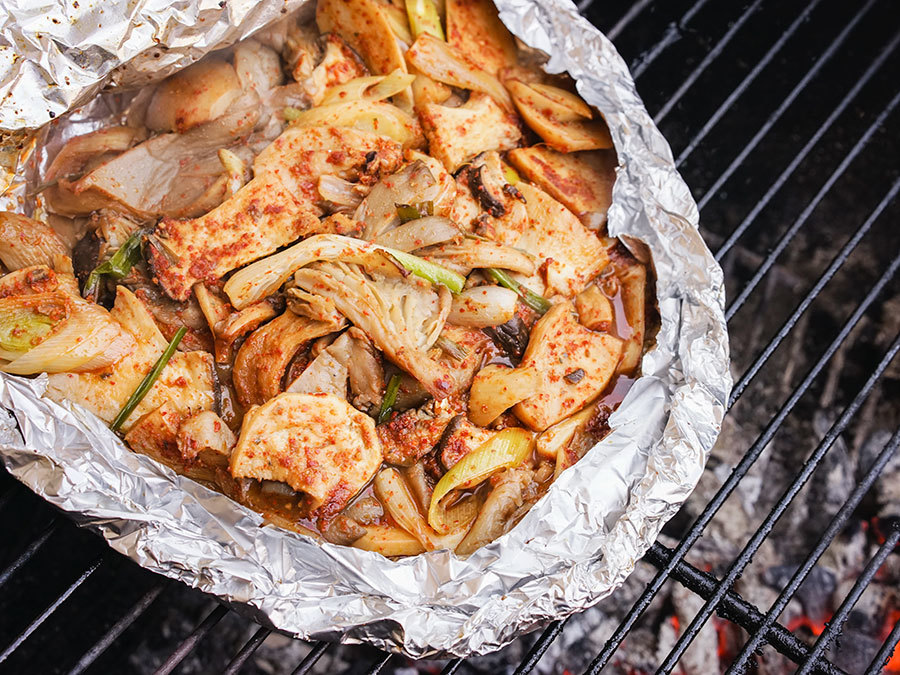 We love Oyster mushrooms for their firmness and resistance, even when cooked on the grill – feel free to use other mushroom varieties to prepare this succulent papillote.
Ingredients
1 lbs Oyster mushrooms and/or Royal Oyster mushrooms
4 garlic cloves, sliced 
8 green shallots in sections 
½ small leek, cut in rings
2 Tbsp soya sauce 
2 Tbsp grilled sesame oil 
Salt, to taste
2 Tbsp Layover in Korea, ground
Method
1

Heat the grill.

2

Cut mushrooms into equal sizes. Place in a bowl with remaining ingredients. Mix well.

3

Place a sturdy sheet of aluminum foil 30 in X 12 in, on the counter. Fold in two and using scissors, cut into a heart shape.

4

Place mushrooms on one side of the sheet then fold the remaining half on top. Close the papillote and seal well (see technique below).

5

Place the papillote on the grill and close the cover. Cook until the papillote swells with steam, about 15-20 minutes.

6

Let rest 5 minutes. Open the papillote, paying attention not to burn yourself with steam.  
To make perfect papillotes, fold aluminum foil in two and fashion a half heart, that will be unfolded after. Place vegetables on one half, cover using the remaining half and seal the seams well, beginning with the point of the heart.