Korean-Style Fried Rice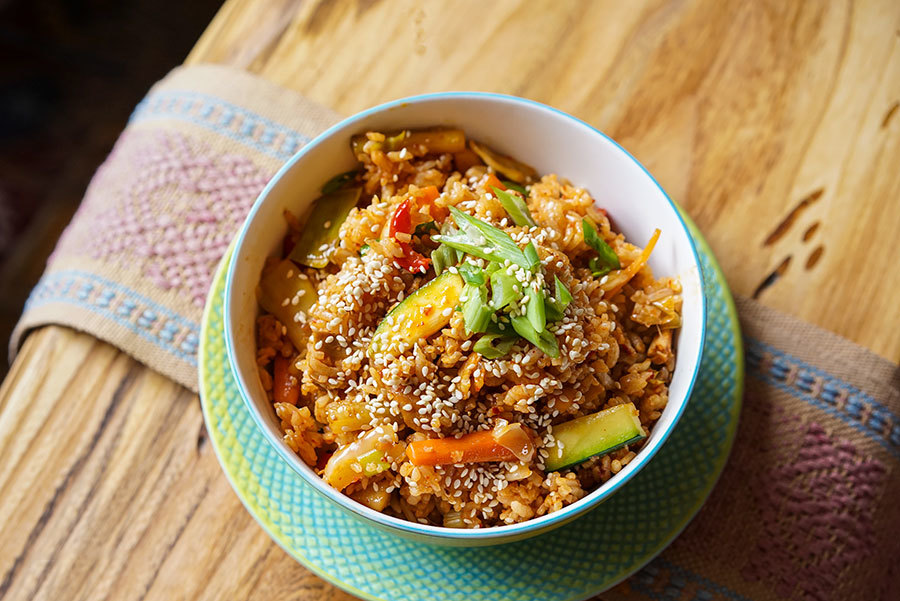 This recipe may not be authentically Korean, but it's a great way to use up your leftovers in the fridge with Korean flavors. Feel free to use whatever vegetables you have in the fridge and replace the chicken with another meat or even tofu.
Ingredients
4 cups cooked rice

---
4 cups vegetables of your choice

---
1 cup cooked chicken, shredded or diced

---
4 scallions

---
¼ cup vegetable oil

---
4 Tbsp garlic, chopped

---
4 Tbsp ginger, chopped

---
4 Tbsp gochujang

---
2 Tbsp Korean Pepper

---
Salt to taste

---
3 Tbsp soy sauce (preferably Korean or Japanese)

---
1 Tbsp toasted sesame oil

---
½ cup sesame seeds

Method
1

Remove cold rice from the fridge and separate with your fingers. You may want to dip your fingers in water to make it easier.  Set aside in a cool place.

2

Slice vegetables in 1 ½-inch sticks and set aside.

3

Finely chop scallion whites and set green parts aside.

4

Heat oil in a wok or a large pot on high. Add garlic, ginger, and scallion white. Sauté 1-2 minutes until lightly fragrant and colored.

5

Add gochujang and chile and stir vigorously to dissolve it in the wok. Add chicken and cook for 30 seconds.

6

Add vegetables one at a time, starting with the ones that take the longest to cook. Add salt and stir-fry for a few minutes.

7

When vegetables are half-cooked, add cold rice and stir constantly.

8

When the rice is hot, add soy sauce and sesame oil. Stir well.

9

Garnish with chopped scallion greens and sesame seeds. 
Gochujang is one of Korea's most popular condiments. It's a fermented paste made from hot chilies, rice, and soy. It's commonly found in Asian groceries and is available online.