Korean vegetable and noodle bowl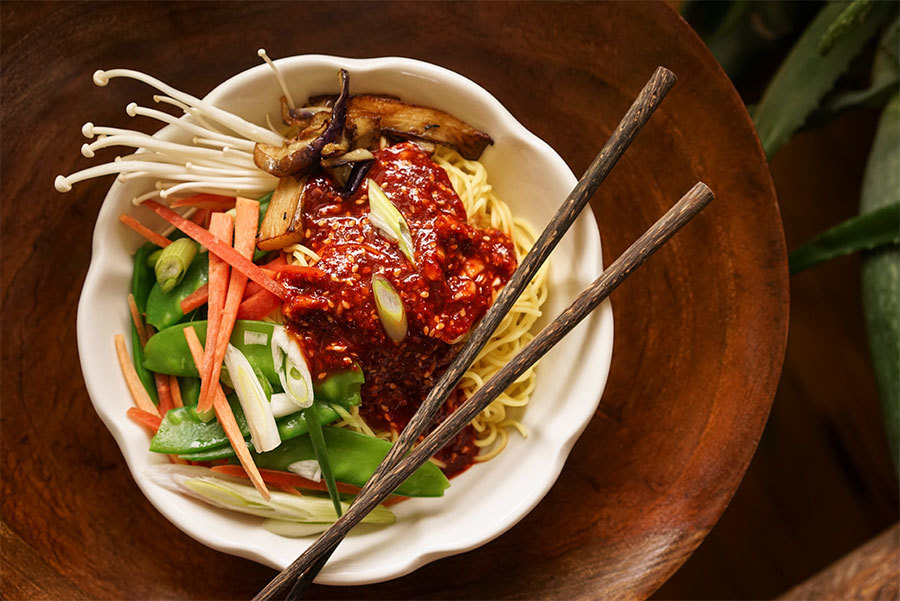 This decidedly non-traditional, but delicious Korean flavor inspired noodle dish has an added touch – maple syrup! Switch up the vegetables depending on the season, but it's important to have contrasting textures and colours to maintain the harmonious balance of the dish. 
The noodles can be served hot or cold. If you wish to serve them cold (absolutely perfect on hot days), simply cool them using cold water before placing them in bowls.
Ingredients
1 Chinese eggplant
¾ cup vegetable oil
½ cup snow peas
1 medium carrot
½ pack Enoki mushrooms 
4 green shallots 
250 gr dry Ramen noodles or 500 gr fresh Chow Mein noodles
¼ cup rice vinegar 
Sauce
4 Tbsp gochujang *
¾ cup rice vinegar
¼ cup maple syrup 
1 Tbsp toasted sesame oil
4 Tbsp Layover in Korea spice blend, ground
3 Tbsp light colour Japanese soya sauce
4 Tbsp sesame seeds  
*Fermented, Korean chilie paste, available on line or in Asian groceries.
Sauce
1

Place all ingredients, except sesame seeds, in a bowl.

2

Heat a small pan on high heat for one minute, then add sesame seeds. Stir constantly to toast lightly. Pour into the bowl once golden. Mix well.

3

This sauce keeps well for several weeks once refrigerated.
Noodles
1

Cut eggplant into sticks. Heat oil in a small pan then fry the eggplant sticks in two or three batches, until golden. Drain on paper towels. 

2

De-stem snow peas and blanch for 1 minute in boiling, salted water. Rince, in cold water then drain.

3

Cut carrot in juliennes.

4

Remove the feet from Enoki mushrooms.

5

Cut green shallots diagonally.

6

Boil 12 cups of water in a large pot. Add vinegar and cook noodles until they are al dente. Drain and place in large serving bowls. Alternately, cool noodles in cold water before adding remaining ingredients.

7

Garnish with prepared ingredients. Pour in a generous helping of sauce.