Kozhierchi curry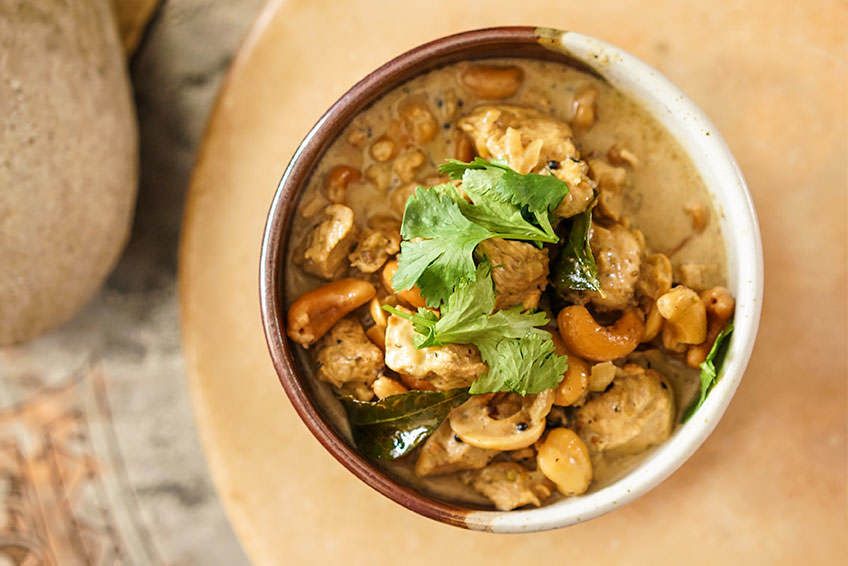 A subtly sweet Kerala style chicken curry and cashews.
Ingredients
2 lb. (1 kg) boned, skinned chicken, cut into cubes
1 ½ cup coconut milk
salt
juice of one lime
2 Tbsp Poultry Masala
1 tsp Garam Masala
Tarka
2 Tbsp coconut oil (or vegetable oil)
10 curry leaves
1 tsp brown mustard seed
2 cloves garlic, chopped
2 slices ginger, chopped
4 French shallots, chopped
Garnish
4 Tbsp cashews, grilled and chopped
Cilantro
Method
1

Grind the masalas and mix with the chicken. Marinate 1 or 2 hours.

2

Heat oil and brown the mustard. Add curry leaves and then the Tarka ingredients. Cook a few minutes.

3

Add chicken. Sauté a few minutes.

4

Add salt and half the coconut milk. Simmer 30 minutes.

5

Add remaining coconut milk, cashews, and lime juice. Simmer a few minutes more.

6

Garnish with cilantro and serve.