Kuku paka - Kenyan Coconut Milk Chicken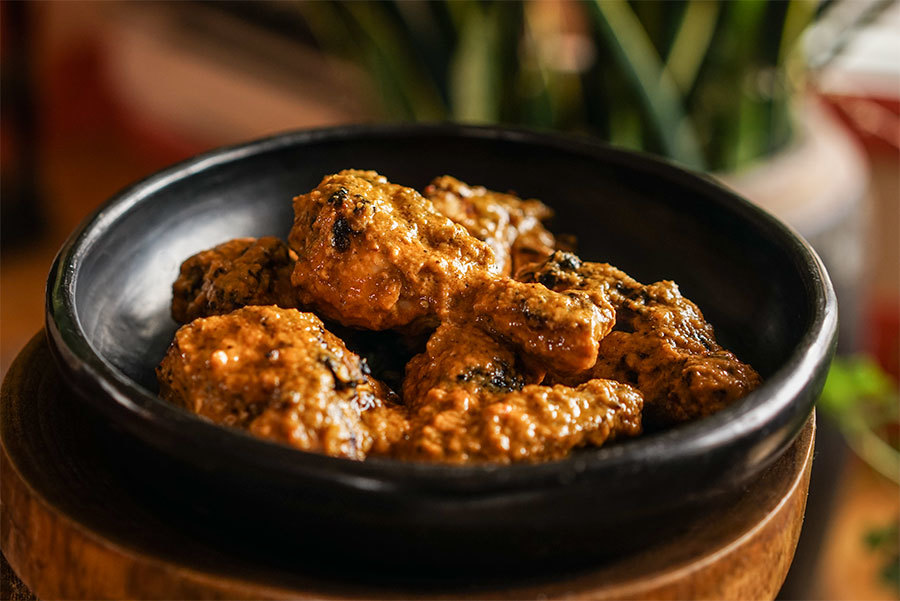 Kuku Paka is an iconic Kenyan dish, one which represents many of the country's culinary influences, from local to European and even Indian. The thick sauce, made with coconut milk, is lightly sour, kicked up by the unique heat of its ginger-pepper-chile trio. It's best served with rice and root vegetables like sweet potatoes.
It's no surprise that Kenyan cooks add their own personal touches to this recipe. The chicken can first be grilled before it's added to the sauce or sautéed in butter before being simmered in the marinade. Some enjoy it with turmeric, while some omit the herbs entirely. Personally, we prefer it with a 50/50 combo of lime and tamarind. The joy of this recipe is how easy to personalize it is. 
Ingrédients
1 3-4 lb chicken
1½ Tbsp cumin
2 Tbsp coriander seed
1 Tbsp black pepper
1 onion, chopped
4 cloves garlic, chopped
2 inches ginger, chopped
1 hot green chile (serrano-jalapeño)
2 tsp salt
2 tomatoes
3 cups coconut milk
Juice of 2 limes or ¼ cup soaked tamarind pulp
6 Tbsp coconut oil 
Method
1

Chop chicken into large pieces and remove as much skin and fat as possible. Place in a bowl.

2

Grind spices and place in a food processor with onion, garlic, ginger, chile, salt, and tomatoes. Purée. Incorporate coconut milk and lime juice or tamarind.


3

Pour the mixture into the bowl with the chicken, stir well and marinate in the fridge for at least 1 hour, or up to 6 if you have the time.

4

Remove chicken from fridge. Preheat oven to 500° F or light BBQ.


5

To oven roast: pour 2 Tbsp coconut oil onto a roasting tray. Drain chicken and set marinade aside. Place drained chicken on the tray, ensuring no pieces are touching each other. Roast 25-30 minutes.

6

To barbecue: drain chicken, reserve marinade, and grill gently for 25-30 minutes until cooked.


7

Meanwhile, heat a pot on medium. Add remaining oil then the reserved marinade. Stir regularly as you cook to ensure the sauce does not stick. Cook until the sauce has thickened and oil is floating on the surface.

8

Add cooked chicken to the sauce and simmer 5 minutes, coating each piece with the sauce.