Tahini-Braised Vegetables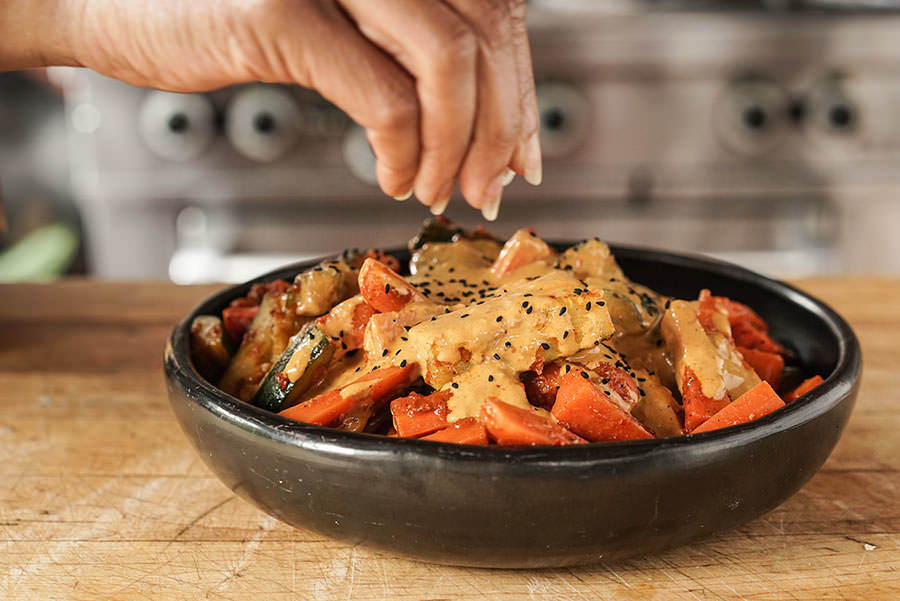 Choisissez les légumes qui vous plaisent, selon ce qui est disponible sur les étals.
Ingredients
1 lb carrots
3 medium zucchini
3 Tbsp Turkish pepper paste or tomato paste
1 tsp cumin
½ tsp black pepper
½ tsp fenugreek 
Salt to taste
Juice of 1 lemon
2 Tbsp pekmez or 1 Tbsp honey 
2 cloves garlic
½ - ¾ cup tahini, well-stirred
½ tsp nigella
2 Tbsp olive oil
* Pek Mez is a grape concentrate available in most Middle Eastern groceries. Substitute Italian vino cotto if need be.
Method
1

Slice vegetables into 2 to 3-inch strips. Grind spices. Place vegetables, with pepper paste and spices, in a pot. Add ¾ cup water and salt.  

2

Stir well and put pot on medium heat. Bring to a boil and cover. Cook on medium-high, until vegetables are cooked but still firm (10-15 minutes).

3

Meanwhile, pour lemon juice and pekmez into a bowl. Grate garlic and add to the bowl. Pour the vegetable cooking juice into the bowl and incorporate enough tahini to make the sauce thinner or thicker, depending on how you like it. Taste and adjust salt and pepper if necessary. 

4

Transfer vegetables to a plate. Pour the sauce on top and garnish with nigella and a splash of olive oil.