Laksa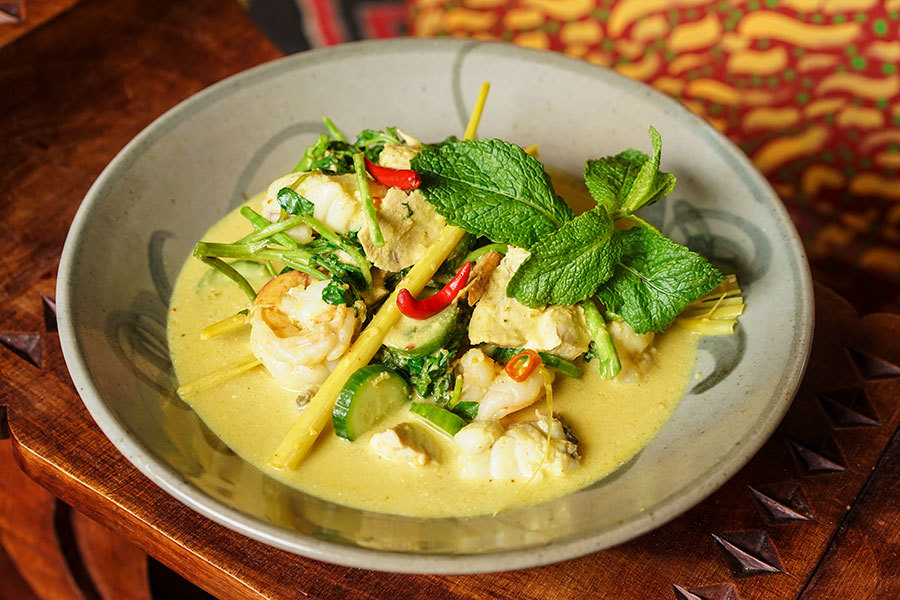 Asam laksa is a tart soup that originated in Indonesia and Malaysia. The choice of fish used in the soup depends on what's good at the market. Choose the freshest fish you can find.
Ingredients
3 Tbsp tamarind or ¼ cup lime juice
3 cloves garlic, chopped
3 shallots, chopped
2 tsp turmeric, ground
¼ tsp white pepper, ground
2 to 4 fresh Thai chilies, chopped
¼ cup cashews
1 tsp coriander, ground
½ tsp cumin, ground
1 tsp Aleppo pepper
1 tsp dried shrimp or fish sauce
3 Tbsp coconut oil
4 cups coconut milk
2 cup water
1 stalk lemongrass or lemon zest
½ lb chicken breast
½ fish filet (of your choice)
½ lb shelled shrimp
Salt to taste
2 bunches watercress
1 small cucumber, sliced
¼ cup Vietnamese coriander or cilantro
2 fresh mint
sambal oelek
Method
1

Soak tamarind in ¼ cup boiling water.

2

Place garlic, scallion, turmeric, pepper, chile, cashews, cilantro, cumin, Aleppo pepper and dried shrimp in a mortar or food processor and purée.

3

Place coconut oil and spice paste in a large pot on low heat for 10 minutes. Pour in coconut oil, water, tamarind pulp and lemongrass. Bring to a boil.

4

Meanwhile, chop chicken and fish into bite-sized pieces. Add, along with shrimp, to the pot when it begins to boil. Salt to taste. Simmer for 5 minutes.

5

Remove pot from heat. Chop watercress into 1-inch sections; incorporate along with cucumber and chopped herbs. Serve with a side of sambal oelek.