Lamb garnished hummus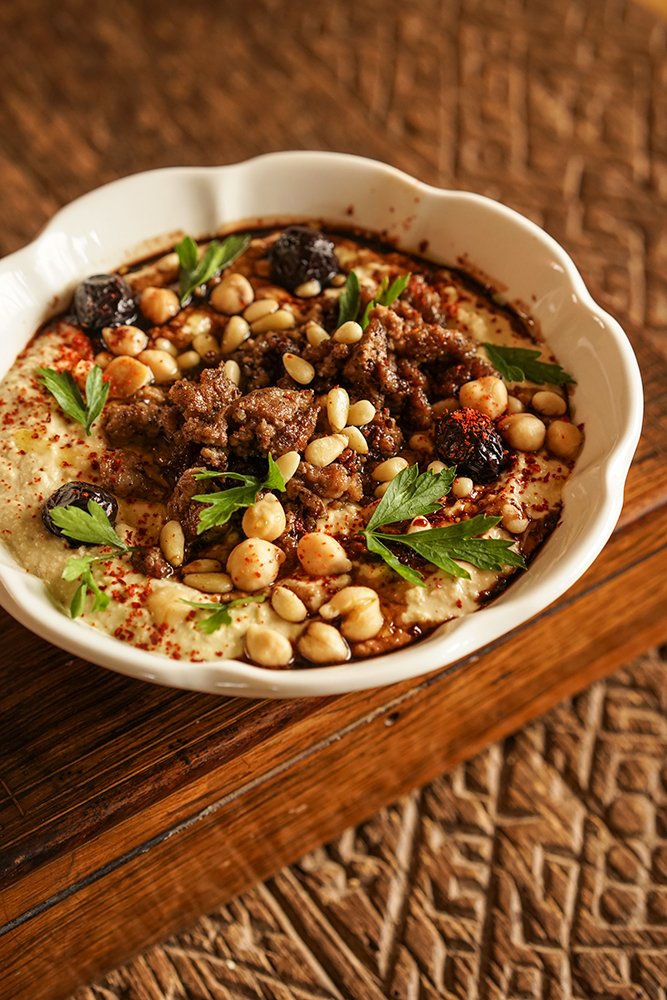 A rich and generous dish which never fails to impress guests when served either with cocktails or as an entrée. Minced lamb is a perfectly good option, if desired.
Ingredients
2 tsp cumin
3 garlic cloves 
6 Tbsp cold water  
Salt to taste
¾ cup tahini
¼ cup olive oil
2 cups chick peas, cooked
4 Tbsp lemon juice 
¼ lb lamb
½ Tbsp Aleppo Seven Spice, ground 
2 Tbsp sumac, ground 
2 Tbsp olive oil 
3 Tbsp pine nuts 
¼ cup whole chick peas, cooked
8 olives
Parsley, to garnish 
1 tsp Aleppo pepper or Isot Kurdish Black Pepper
Method
1

Grill the cumin in a hot, dry pan, until fragrant, grind and set aside.




2

Put garlic, water and salt in a food processor, reduce to a puree.


Incorporate the tahini and olive oil. 




3

Add the well-drained chick peas, cumin, and lemon juice. Grind in a food processor and mix occasionally, using a spatula, until homogeneous. If the hummus is too thick, add a little water. Set aside.




4

Cut the lamb into small ¼ - ½ inch cubes. Heat a pan on medium-high with 2 Tbsp olive oil. Add lamb, Aleppo Seven Spices and sumac. Salt and stir-fry until the lamb is golden and cooked. Add pine nuts and cook another minute while stirring. 




5

Spread the hummus unto a large dish. Place the lamb on top and decorate with whole chick peas, olives, parsley and Aleppo pepper.