Lamb Korma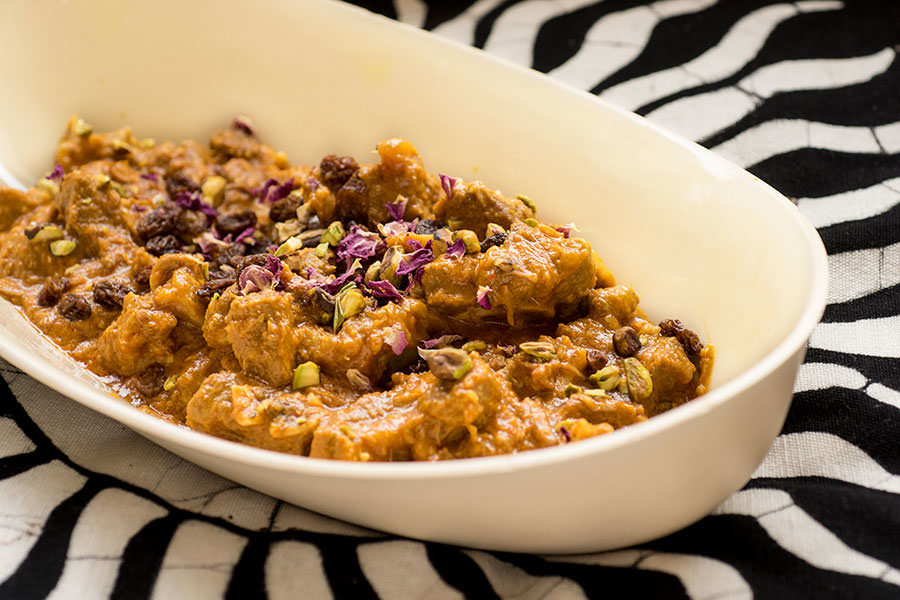 Ingredients
½ cup ghee or oil
3 lbs. (1.5 kg) bone-in lamb, cubed
1 tsp black peppercorns
2 cups onions, sliced
2 cup 4% yogurt
2 tsp garlic, chopped
2 tsp ginger, chopped
½ tsp turmeric, ground
2 tsp coriander, ground
1 tsp kashmiri pepper, ground
3 Tbsp blanched almonds, chopped
2 Tbsp tomato paste (opt.)
Salt to taste
¼ cup thick coconut milk
A few drops rose water for garnish (opt.)
Sliced almonds, raisins, at rose petals for garnish (opt.)
Method
1

Heat a thick-bottomed pot on medium. Add half the ghee, meat, peppercorns and cardamom. Cook, stirring on occasion, until the pot is dry and meat is colored.

2

Add 1 cup of water. Bring to a boil, cover, and cook on medium heat until meat is beginning to fall apart (around 45 minutes).

3

Heat another pot on medium. Add the ghee and remaining onions. Simmer, stirring regularly, until the onions are golden and falling apart, and the ghee comes out again (around 15 minutes).

4

Meanwhile, place yogurt, garlic, ginger, ground spices, almonds and tomato paste in a blender and reduce to a smooth liquid. Set aside.

5

Remove onions from pot with a slotted spoon. Place them on a paper towel.

6

Pour yogurt blend into the pot with onions and cook on medium heat, stirring frequently, until the liquid becomes a paste and starts to sizzle (about 10 minutes).

7

Add meat and cooking juice to yogurt paste and simmer until meat is tender, 15-20 minutes.

8

Meanwhile purée onions in a food processor. Incorporate onion purée and coconut milk into the sauce. Simmer for 10 additional minutes. Add a few drops of rose water if desired.

9

Serve with garnishes of your choice.