Lamb, Nut and Dried Fruit Pilaf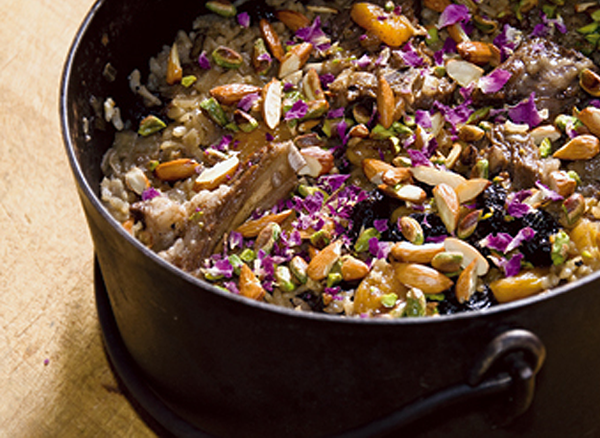 Wait, a Chinese rice pilaf? Yup. We first encountered this recipe in Kashgar, in northwest China. The spices used in this recipe are witness to the influence of Chinese, Indian, and Iranian cooking in the region. It's absolutely decadent. 
Ingredients
1 kg lamb shoulder, cubed
---
3 large onions, chopped
---
5 tsp Silk Road Blend, ground
---
5 Tbsp lamb fat or vegetable oil
---
1½ cup Turkish or par-boiled rice
---
Salt and pepper, to taste
---
½ cup raisins
---
½ cup dried apricots
---
½ dried cherries or prunes
---
3 cup boiling water
---
¼ cup toasted almonds
---
¼ cup toasted pistachios
---
¼ cup pomegranate seeds (opt.)
---
1 Tbsp dried rose petals (opt.)
Method
1

Place a large, thick pot on medium heat.

2

Sauté lamb, onions, and spices in the fat or oil (around 5 minutes).


3

Add rice, salt, pepper, and dried fruit.


4

Sauté 2-3 minutes, stirring constantly. Add boiling water.

5

Cover and cook on low heat for 20 minutes, then let rest 20 minutes before serving.

6

Serve garnished with almonds, pistachios, pomegranate seeds, and rose petals.