Lamb, raisin, cauliflower and pine nut tajine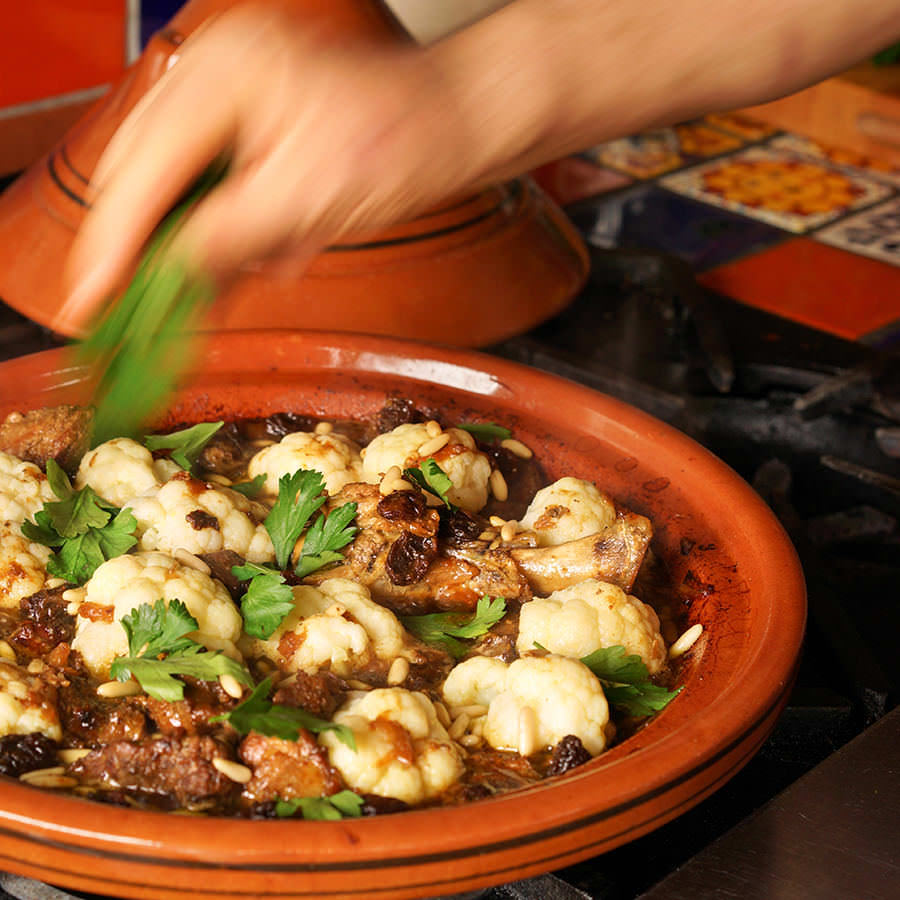 Cauliflower contains a lot of water and cooks quickly, so it must be blanched ahead of time and added at the end of cooking. That way, it absorbs fragrances from the meat. If you use a firmer vegetable like carrots or fennel, put it directly in the pot at the same time as the meat.
Ingredients
2 lbs bone-in-lamb shoulder or neck, chopped into large chunks
1 tsp cumin
½ tsp long pepper
½ tsp black pepper
½ tsp dry ginger
1 tsp turmeric
3 cinnamon stick slivers
1 cardamom pod
3 allspice berries
Pinch nutmeg
Pinch saffron (opt.)
Salt, to taste
1 onion, chopped
5 Tbsp ghee (clarified butter)
4 cups cauliflower, in florets
½ cup raisins
2 Tbsp honey (opt.)
4 Tbsp lemon juice (opt.) or preserved lemons
¼ cup pine nuts or slivered almonds
Method
1

Rinse meat in warm water, drain, then dry with a paper towel.

2

Grind spices and mix with salt. Rub the meat thoroughly with the mix.

3

Place the chopped onion on the bottom of the Tajine pot. Place the meat on top. Add the ghee and 4 tablespoons water. Cover and place on medium-low heat.

4

Once the sauce begins to form in the tajine, reduce heat to medium. Cook until meat is done, around 1½ hours.

Meanwhile, blanch cauliflower in salted boiling water. Drain while still a little crunchy. Cool in the colander without running it under water (it will dry but not dilute the sauce with excess water).

5

Add raisins, honey and/or lemon juice. Add the cauliflower and spoon the cooking juice on top. Cover and cook another 15 minutes. Add the pine nuts and remove from heat. Let stand 15 to 30 minutes before serving.