Lamb tartare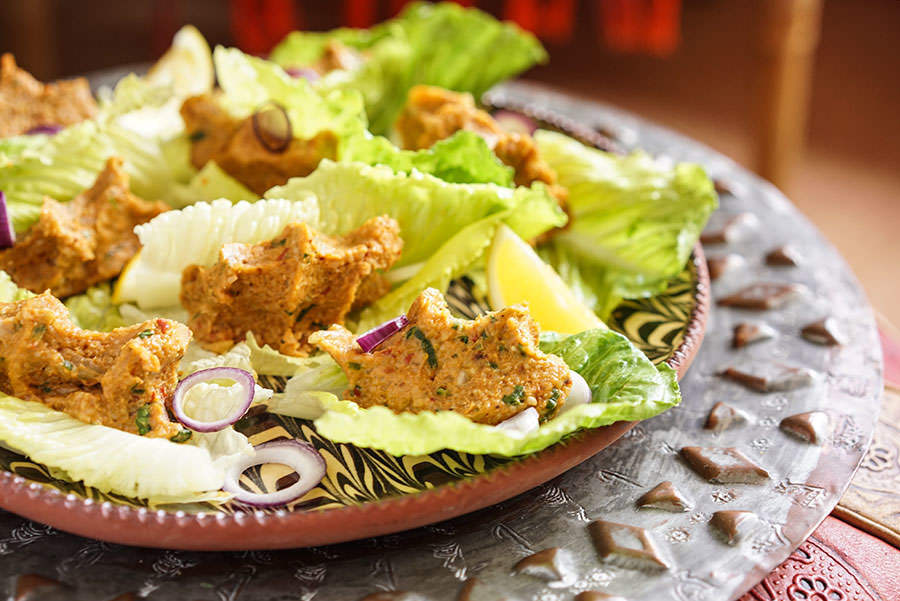 There are all kinds of different tartare in the Middle East, like Lebanese Kibbeh Nayé. This version comes from Antep, Turkey. Go ahead and make a lot of this recipe. The following day, the leftovers will make wonderful meatballs simmered in tomato sauce, served with garlic yogurt.
Ingredients
1 ¼ cup fine bulgur
½ lb very lean beef or lamb, freshly ground
4 Tbsp Aleppo Pepper
1 Tbsp Lebanese 7-Spice, ground
1 tsp cumin, ground
½ Tbsp tomato paste
1 Tbsp pepper paste
2 Tbsp olive oil
1 cup fresh parsley, chopped
4 scallions, minced
1 medium onions, minced
5 cloves garlic, chopped
½ Tbsp salt
Garnishes
2 lemons, quartered
1 onion, sliced
lettuce leaves
Method
1

Soak bulgur in boiling water for around 30 minutes. Drain and remove any excess water. Let stand 30 minutes.

2

Gently mix ingredients together until homogenous (5 mins).

3

Add remaining ingredients (except garnishes) and continue to blend ingredients together until tartare is homogrnous. A stand mixer with bread hook attachment will provide excellent results.

4

Refrigerate until serving.

5

Shape tartare into little balls or ovals and serve each on a lettuce leaf with onions and lemon slices on the side.