Rabbit with Prunes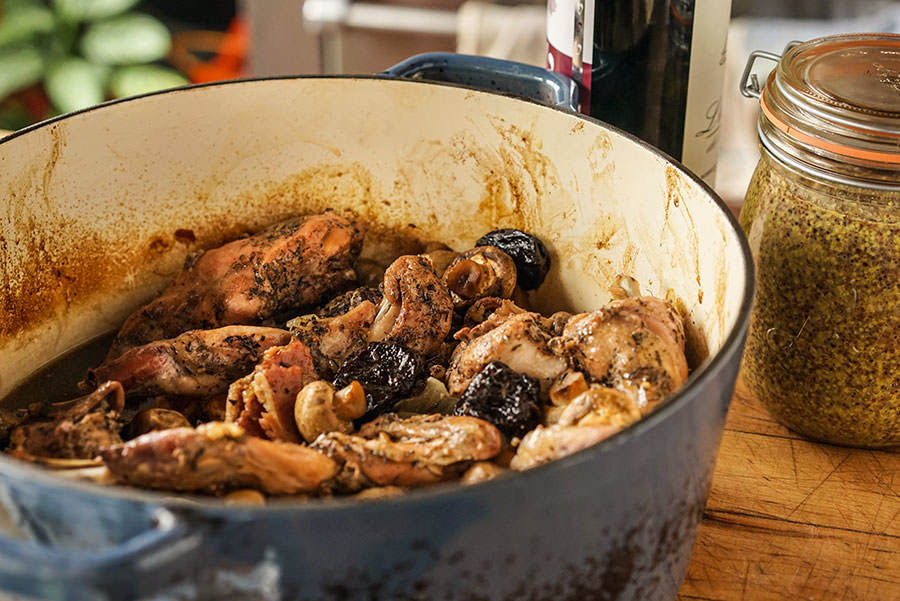 Rabbit can dry out easily, so this kind of steaming is perfect for this delicate meat. It's simply delicious with prunes and mushrooms.
Ingredients
1 cup prunes
¼ cup red wine
4 tsp salt
1 tsp black pepper, ground
1 tsp thyme
½ tsp cinnamon, ground
1 rabbit cut into 6 pieces
6 slices bacon
4 shallots
2 cups button mushrooms
Method
1

Place prunes in a bowl with wine. Stir well and set aside.

2

Mix salt with spices. Rub all over the rabbit pieces.

3

Choose a large pan that a cover or plate can fit on top of. Lay bacon in the pan. Place chicken pieces on top of the bacon. Place pan on medium-low heat and cover.

4

Cook for 15 minutes (the bacon should be melted). Flip the rabbit and bacon. Place whole shallots around the rabbit. Return cover to the pan, slightly ajar.

5

Cook 15 more minutes, flip the rabbit and place mushrooms around it. Cover partially and cook for 10 minutes more.

6

Add prunes and flip all ingredients. Cover and cook another 5 minutes. Serve with mustard.