Layover in Portugal braised beef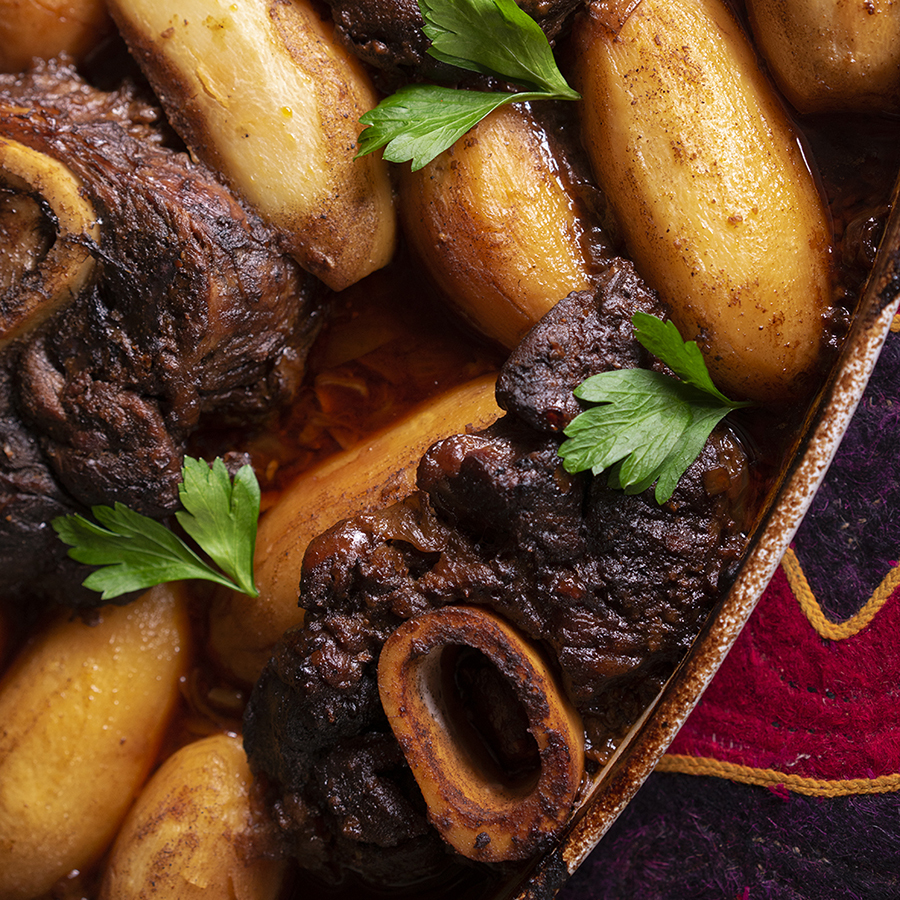 This dish can be prepared using white or red wine. The most important thing is that the meat should marinate with the spices and wine for at least 24 hours – 48 hours would be ideal.
Ingredients
4 lbs sliced beef shanks or stewing beef cubes
1 bottle of white or red wine
12 garlic cloves, chopped
4 Tbsp Layover in Portugal spice blend, ground
½ cup olive oil
2 medium onions, chopped
6 garlic cloves, chopped
Salt to taste
6 medium potatoes – Russets, if possible
Parsley to garnish
Method
1

Pour the wine into a bowl and add the 12 garlic cloves and spices. Add beef slices. Cover and let rest refrigerated for 12 to 48 hours.

2

Heat the oven to 350 °F.

3

Strain the beef and set aside the marinade.

4

Heat a large pan on medium with the oil and soften the onions for a few minutes. Transfer the onions into a large baking dish, without removing the oil from the pan. Cook the beef in the pan for 2-3 minutes on either side until golden, then place it in the baking dish on top the onions.

5

Add the remaining chopped garlic to the pan and brown for a few seconds. Pour the marinade, salt and 2-3 cups of water (enough to cover the meat) and bring to a boil. Add the meat.

6

Shape a piece of parchment paper to the size of the pan, then cover. Place aluminum foil on top.

Cover the baking dish and cook in the oven for 2 hours.

7

Peel the potatoes and cut into pieces.

8

After two hours of cooking, the meat should be tender. Place the potatoes between the pieces of beef. Add boiling water and barely cover the meat, if necessary. Cover once again with the parchment and foil and continue cooking for 30 minutes, until the potatoes are soft.

9

Remove from the oven and let rest for 30 minutes before serving.

10

Garnish with parsley.