Layover in Thailand Coconut Milk Vegetables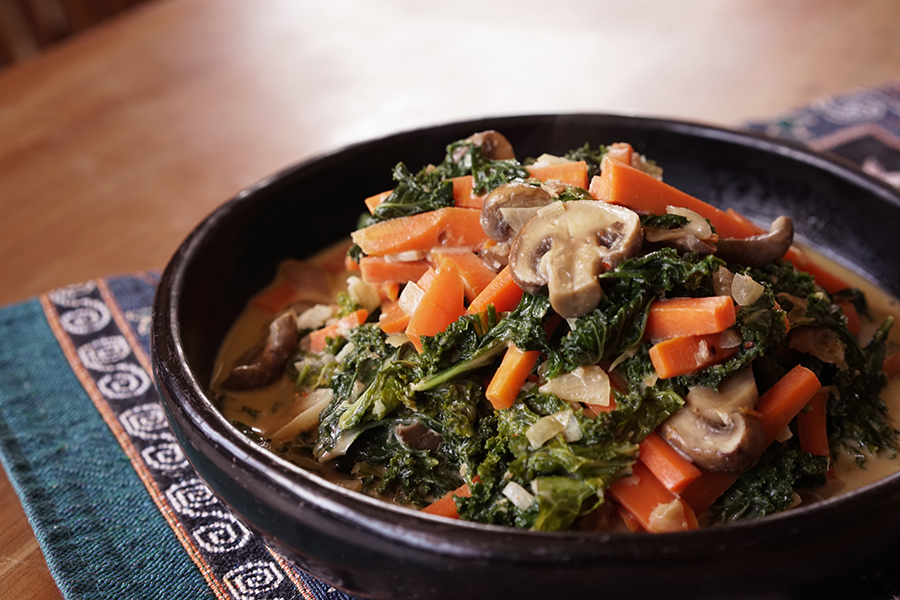 Our Layover in Thailand spice blend is reminiscent of the flavours of Thai cuisine, with hints of lemongrass, chilies and galanga. This recipe most resembles a white curry. If you wish to replicate a yellow curry, simply add turmeric or even a chile that's moderately hot such as Korean pepper, should you prefer a red curry. 
This recipe works wonderfully with other vegetables, feel free to use whatever you have on hand. 

Ingredients
2-3 medium carrots
1 bunch of kale 
¼ lb mushrooms
4 Tbsp coconut oil OR vegetable oil 
2 large dry shallots, chopped 
4 garlic cloves, chopped 
2 Tbsp Layover in Thailand spice blend, ground 
1 cup coconut milk
2 Tbsp fish sauce 
Salt to taste
Method
1

Cut carrots in sticks. Remove the hard stems from the kale and chop the leaves roughly. Cut mushrooms in two, if necessary. 

2

Heat a large casserole on medium. Lightly sauté the carrots, mushrooms, shallots and garlic in oil for two minutes.

3

Add ground spices and mix well for 30 seconds.

4

Add coconut milk. Bring to a boil and let simmer uncovered for 3 minutes. Add the kale and allow the ingredients to wilt for approximately 3-4 minutes.

5

Add fish sauce and mix well. Taste and salt if necessary. Continue cooking for a few minutes, until the vegetables are to your taste.