Lebanese Sandwich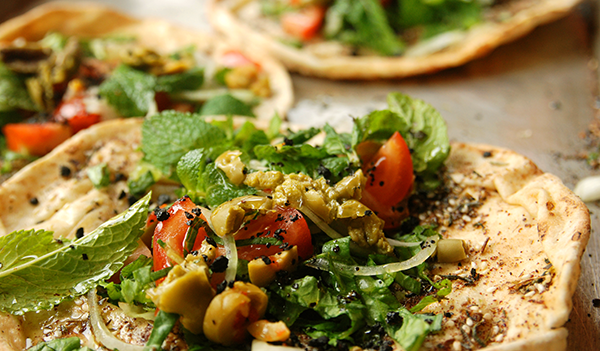 In the Middle East, this sandwhich is breakfast. But it is by all measures a great treat at any time of day or night. The genius of this simple recipe lies in the contrast between the piping hot zaatar bread and the cool vegetables.
Ingredients
2 Pita breads
2 Tbsp olive oil
3 Tbsp zaatar
1 tomato, sliced
2 slices of onion
1 shredded lettuce leaf
¼ cup of pitted olives, chopped
20 fresh mint leaves
Chile flakes, to taste
Sprinkle of olive oil
Method
1

Preheat the oven to 500 °F.

2

Place the bread on a bake sheet.

3

In a small bowl, mix the oil and the zaatar. Spread the mix on the bread.

4

Cook in the oven for 2 minutes.

5

Place the remaining ingredients on the bread and sprinkle with olive oil. Roll the bread and serve immediately.