''Left-Overs'' Turkish Soup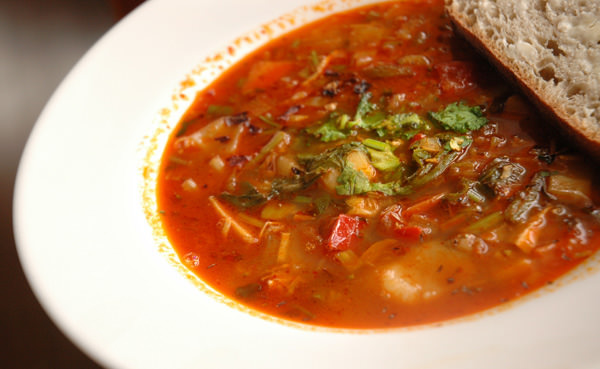 A perfect recipe for those days when you just don't have the time to make an elaborate meal…and when the left-overs are piling up! Served hot with rustic country bread and lots of butter.
The key to this recipe is the use of two pots : one for the broth, rice and lentils, and the other for the vegetables. This technique allows the recipe to be made much faster (around 30 minutes total) and leaves the vegetable crunchy and delicious.
The quantities proposed are only suggestions, so don't hesitate to change them according to what you have on hand. Don't forget : a well garnished soup makes all the difference!
Pot 1
2 l chicken stock
½ cup red dahl or du Puys lentils
½ cup rice (cooked or raw)
2 potatoes, diced
Pot 2
4 Tbsp olive oil
4 Tbsp duck fat
1 onion, chopped
4 garlic cloves, chopped
4 cups diced vegetables (celeri, peppers, carrots, cabbage, parsnip, rapini, turnip, leek, tomato, …)
3 Tbsp Turkish pepper paste or tomato paste
2 Tbsp ground Turkish Kofte Spices
1 tsp of Maras pepper
Salt, to taste
¼ cup chopped cilantro stems
1 cup cooked and shredded chicken (optional)
Garnish
2 chopped garlic cloves mixed with ¼ cup red wine vinegar
Cilantro or parsley, chopped
Wild Black Cumin or grilled Cumin seeds
Method
1

Combine all the ingredients in pot 1 and bring to a boil. Cook on a low heat for about 30 minutes.

2

Heat pot 2. Add the oil and the duck fat.

3

Chop the vegetables and add them to pot 2, one at a time.

4

When all the vegetables are in the second pot, add the pepper paste, spices, chili and salt. Mix well.

5

Add the cilantro stems and the chicken.

6

Cook until the vegetables are no longer raw, but still crunchy.

7

Pour the content of the first pot into the second. Mix well and serve.