Lemon and caper chicken cutlets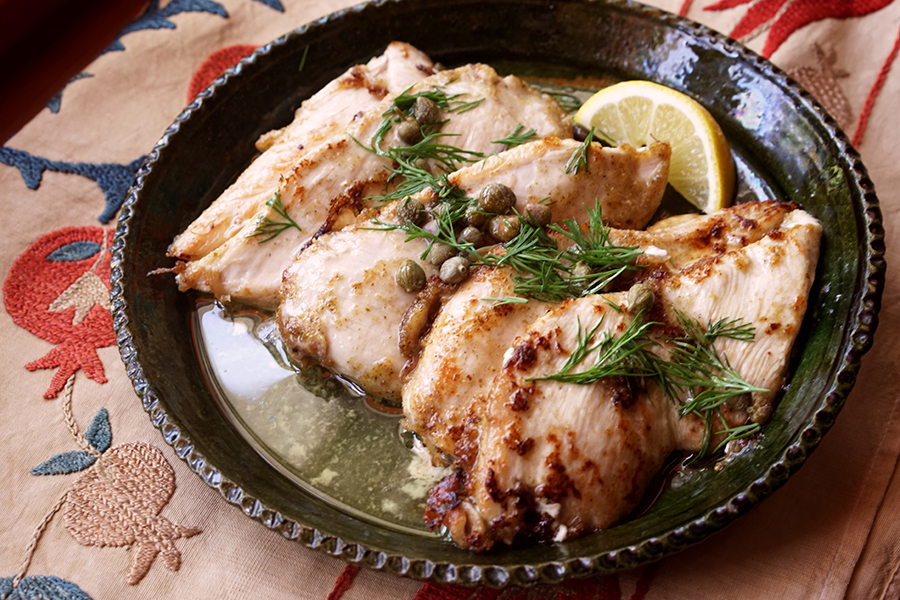 Lemon, capers and a flavourful blend of herbs and spices - this recipe is a real crowd pleaser!
Ingredients
1½ Tbsp Staff Chicken spice blend, ground
Zest and juice of 1 lemon
4 Tbsp caper juice from the jar
3 Tbsp cornstarch OR Arrowroot
Salt and pepper, to taste
2 lbs boneless chicken breasts
¼ cup olive oil
¼ cup drained capers
Lemon and fresh herbs to garnish
Method
1

Place the spices, zest, half the lemon juice, caper juice, cornstarch, salt and pepper in a large bowl and mix well.

2

Cut the chicken into ¼ - inch cutlets. Place in a bowl with the marinade and mix well. Let rest for a few minutes.

3

Heat a large pot on medium-high. Pour oil and place some of the cutlets in the hot oil. Cook for 3 minutes on one side, then for 2 to 3 minutes on the other. Put the cooked cutlets on a plate. Repeat if necessary, with the remaining cutlets.

4

Add the capers to the pan, with the remaining lemon juice and ¼ cup water to deglaze. Remove the pan from the heat.

5

Pour ¼ cup water in the bowl of marinade. Mix well using a spatula and pour into the pan. Heat once again for 30 seconds, mixing to thicken the sauce. Pour on the chicken cutlets and garnish with herbs and lemon wedges.