Lemon and West-Indian Bay leaf crème caramel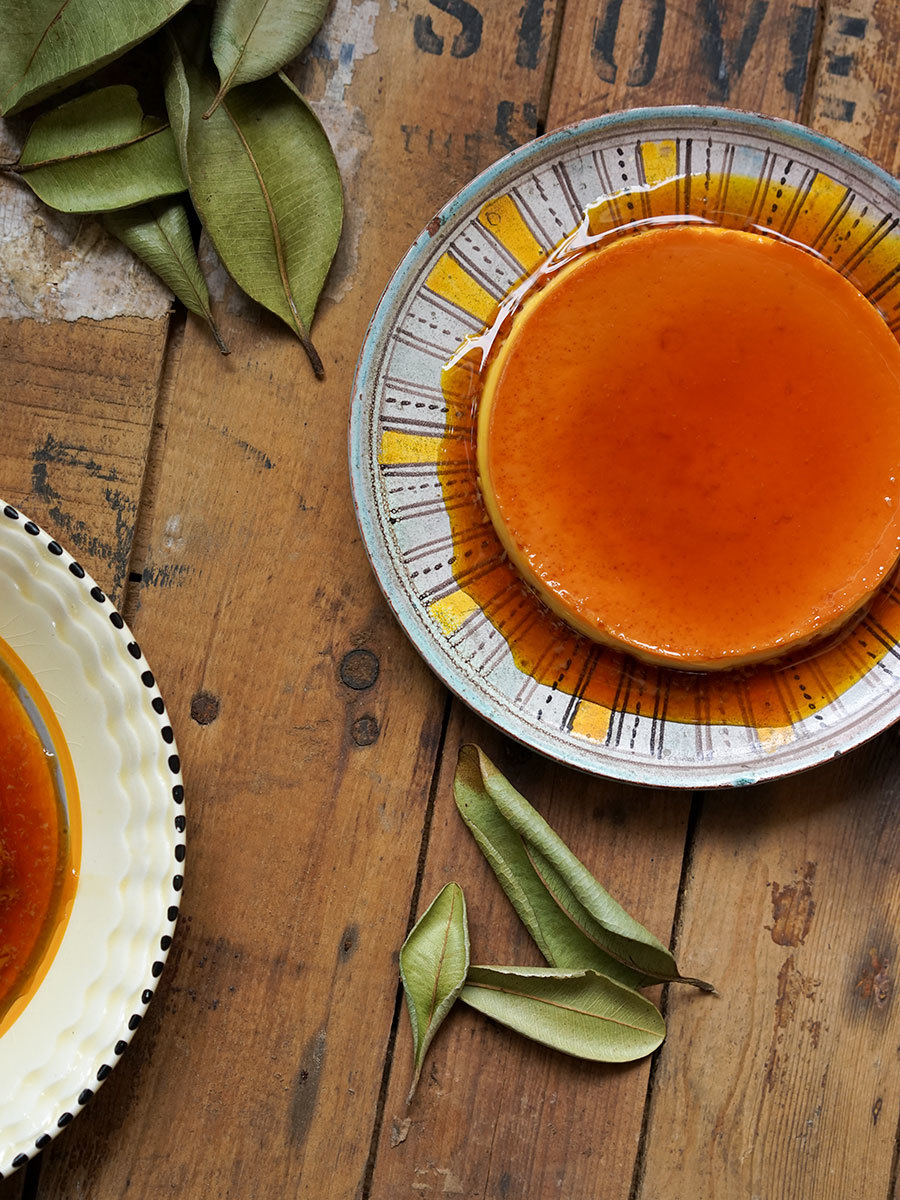 This crème caramel was inspired by ancient Spanish recipes – before vanilla was introduced to Europe. It's important to let it rest at least 12 hours so that the hardened caramel melts – undoubtedly the most charming aspect of this classic dessert!
Ingredients
2 cups milk
1 lemon
1¼ cup sugar
4 eggs
2 egg yolks
Method
1

Heat oven to 350 °F. Shred bay leaves into a large pan. Pour milk on top. Cut off three, large lemon zests, using a peeler and add to milk. Pour in ¼ cup sugar and place on medium heat.

2

Bring to a boil, without mixing, being attentive that boiling milk doesn't overflow. Reduce heat to minimum and let foam 3 – 4 minutes to infuse the milk. Remove from heat and let cool.

3

Squeeze lemon juice and set aside.  

4

Set aside a large, 9-inch ramequin.  

5

Spread ¾ cup sugar evenly into a small pan and place on medium heat. When sugar begins to melt, using a wooden spoon, continue cooking, mixing constantly until the caramel is a lovely brownish gold. Remove from heat and pour lemon juice (be careful of splattering!) into the caramel. Mix, again using the spoon, then pour into the prepared ramequin. Pivot the ramequin to spread the caramel evenly.

6

Put the last quarter cup of remaining sugar into a bowl with eggs and egg yolks. Beat with a whisk, until everything becomes white, about 1 minute. Gradually pour warm milk into the blend, while whisking.  

7

Place a strainer over the ramequin, then pour in the mixture. Remove strainer.

8

Place ramequin in a roasting pan, half-way filled with hot – not boiling water.

9

Place in the middle of the oven and cook for 20-25 minutes, until the custard is firm.

Remove from oven.

10

Remove the mould from roasting pan and let cool 30 à 45 minutes. Cover, using clingfilm, making a small hole in the film with the point of a knife. Place in the refrigerator for 12 hours or more. 

11

To un-mould, slide a small knife around the contour of the custard. Gently place your hand on top, turning it on itself to unstick. Place a large soup bowl on the mould then turn upside down in one fell swoop. The custard and caramel should easily unmould. Remove mould and serve.