Lemon Shrimp Spring Rolls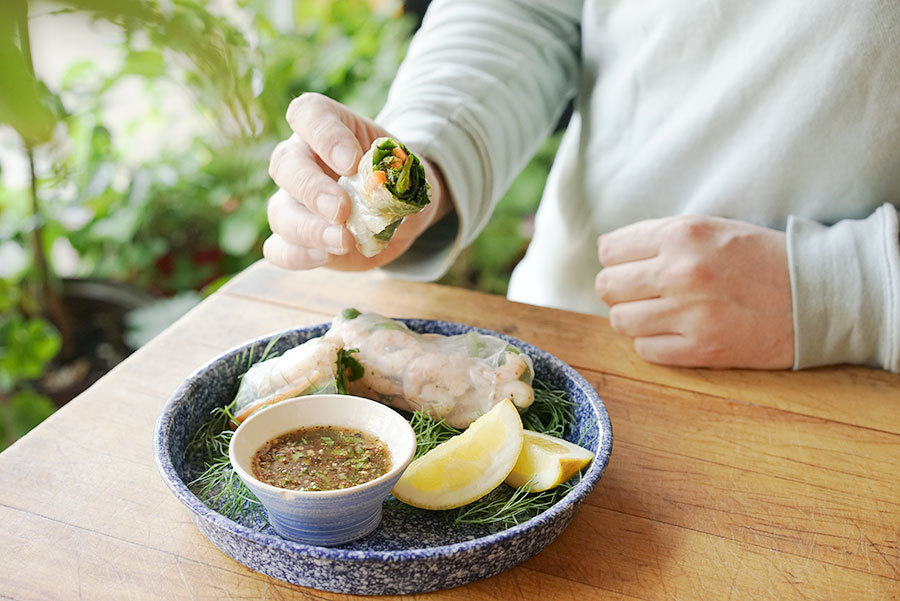 These fresh spring rolls are busting with flavour and are perfect as an entrée or as a light meal. Don't be intimidated by the generous amount of pepper called for in the dip, it is the key element to its success. The hint of maple syrup not only makes this dip delicious, but also well balanced. Any leftover dip can be put in a jar then kept refrigerated for a few weeks.
Ingredients
½ lb Nordic shrimp
2 Tbsp lemon juice
1 tsp Lemon pepper blend, ground 
¼ cup carrots, julienned 
2 green onions, julienned
¼ cup fennel bulb, julienned 
¼ cup fennel leaves, chopped 
8 snow peas
1 cup young spinach leaves
8-10 rice paper sheets
Dip
¼ cup lemon juice
3 Tbsp fish sauce 
¼ cup maple syrup 
1½ Tbsp Lemon pepper blend, crushed
2 green onions
Method
1

Mix all the dip ingredients together. Set aside.


2

Season shrimp with lemon juice and lemon pepper.  


3

Place the carrot juliennes, fennel and shallots in a bowl with the fennel leaves. Mix well. 


4

Remove snow pea stems. Wash and dry the spinach leaves.


5

Place a damp cloth on the work surface.


6

Soak one sheet of rice paper in the bowl of warm water. Place on the rag. Spread a dozen shrimps on the sheet. Add a few spinach leaves followed by some snow pea juliennes.


7

Roll the rice paper sheet half way. Fold in the sides and finish rolling.


Repeat with the remaining ingredients.


8

Serve with the dip.