Lentil Soup with White Curry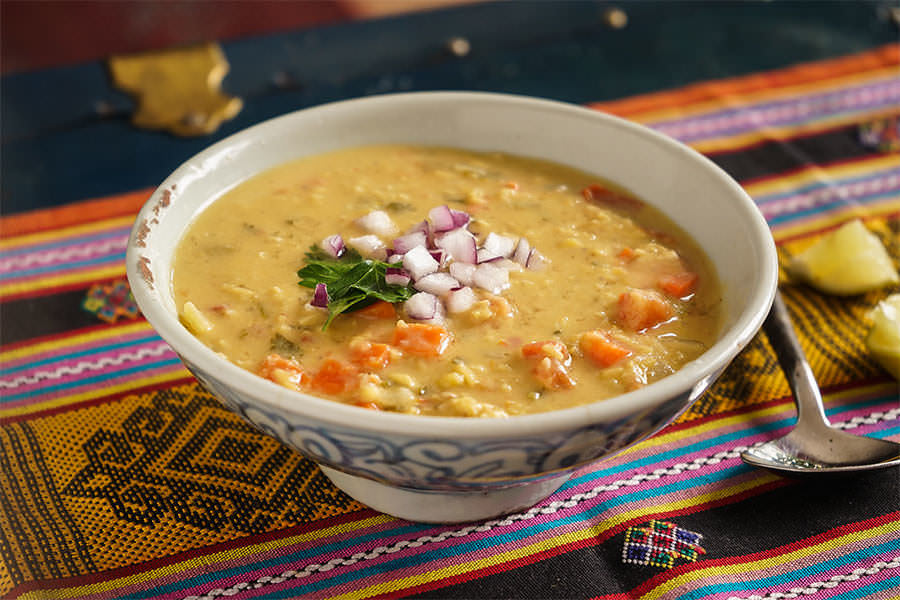 Delicious, cheap, healthy, and quick. A soup that's a meal in itself. Perfect when the refrigerator is empty and the bread is stale.
Ingredients
1 cup red lentils (dhal)
2 tbsp ginger, chopped
4 garlic cloves, chopped
2 dry shallots, chopped
2 tsp White Curry, ground
2 tomatoes, chopped
1 carrot, diced
1 ½ cup coconut milk
½ cup fresh coriander, chopped
Salt and pepper, to taste
Garnishes
6 slices stale sourdough bread
½ cup olive oil
½ tsp fenugreek, roasted and ground
½ cup red onion, chopped
Fresh cilantro
Lime wedges
Method
1

Rinse the lentils and place them in a large pot with 3 cups of water. Bring to a boil and skim.

2

Add the rest of the ingredients. Cook on medium heat for 30 minutes. Taste and add water if the soup is too thick.

3

In the meantime, tear the bread into 1 or 2 inch pieces. Place the bread and the olive oil in a bowl and mix well.

4

Spread the bread evenly on a bake sheet. Cook in the oven at 350F (175C) until crispy and golden (15-20 minutes).

5

Place some of the roasted bread in each bowl and pour the soup over top. Garnish with the roasted fenugreek, onions, and fresh coriander. Serve with lime wedges.