Linzer Augen – Raspberry Hazelnut Cookies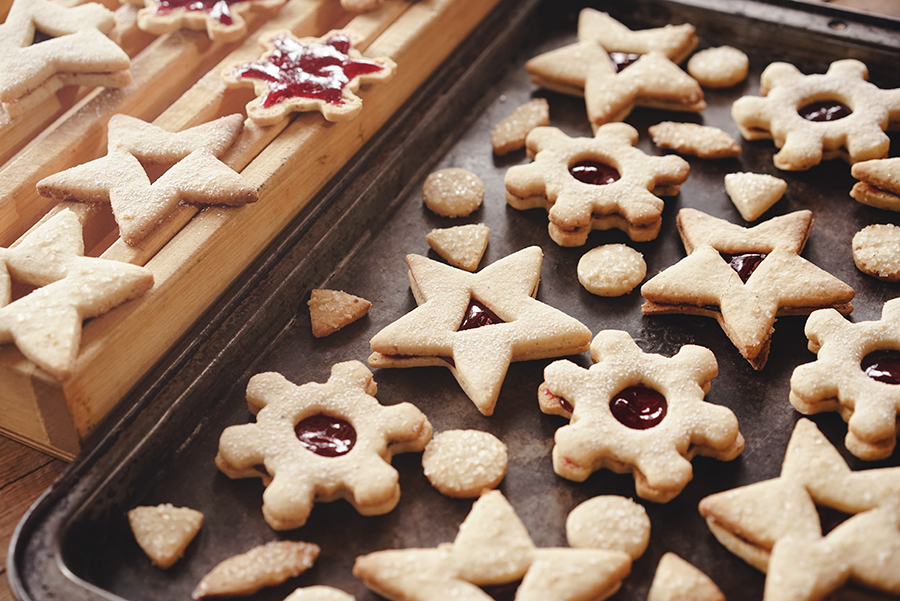 An Austrian recipe that we enjoy making during the Holidays – and which always steals the spotlight, no matter the time of year.
Keeping the dough cold throughout the preparation avoids cracking the cookies while manipulating them. It also facilitates layering the dough, which allows us to make neat, clean-cut shapes.  

Cookies
2 cups all-purpose flour 
½ cup cornstarch
1 cup hazelnuts, shelled
½ tsp salt
¾ cup sugar 
1 Tbsp orange peels, ground
1 cup un-salted butter, at room temperature  
2 egg yolks
Sparkling sugar, powdered (optional for decoration)
Garnish
1 jar Raspberry jam (250ml)
Cookies
1

Put the flour, cornstarch, hazelnuts, salt, sugar and ground orange peel in a blender. Pulse until the hazelnuts are finely ground.

2

Add the butter and pulse again until the blend is the texture of chunky breadcrumbs.

3

Add egg yolks and pulse some more until a dough forms, without overly mixing.

4

Divide the dough into two balls. Make a 2-inch thick disk with each dough ball. Place the disks between two sheets of parchment paper and let rest 30 minutes refrigerated.

5

Remove the dough from the refrigerator and flatten the disks between the parchment sheets, to ½-cm thickness.

6

While still on the parchment paper, cut out the cookies with a cookie cutter. Refrigerate for another 10 minutes.

7

Fashion another disk with the leftover dough cuttings and put in the refrigerator for a few minutes. Cut out the cookies and refrigerate for 10 minutes. Repeat, if necessary.

8

Decorate the cookies with the sparkling sugar, if desired.

9

Preheat to 350 °F and place a grill in the center of the oven. Line a bake sheet with parchment paper.  

10

Delicately place the cookies on the bake sheet.

11

Put the bake sheet on a grill at the center of the oven and bake the cookies for about 8 minutes, or until the edges are golden.

12

Allow the cookies to solidify on the bake sheet before handling them, then transfer to another bake sheet to cool.                        
Garnish
1

Pass the jam through a sieve to get rid of the seeds.

2

Pour the jam into a small pan and bring to a boil on medium.

3

Reduce the jam for 7 to 8 minutes, scraping the bottom of the pan frequently.

4

When the reduction is finished, there should remain about ½ cup for garnishing.      
Assembly
1

Garnish the cookies with the powdered sugar, if desired.

2

Spread a fine layer of raspberry garnish on half the cookies.

3

Cover with another cookie. Keep in a hermetically sealed container.
If you decorate the cookies with sparkling sugar, do it before putting them in the oven. On the other hand, should powdered sugar be your decorating option, be sure to wait until the cookies are baked, cooled and decorated before assembly.