Little Italy Stuffed Vegetables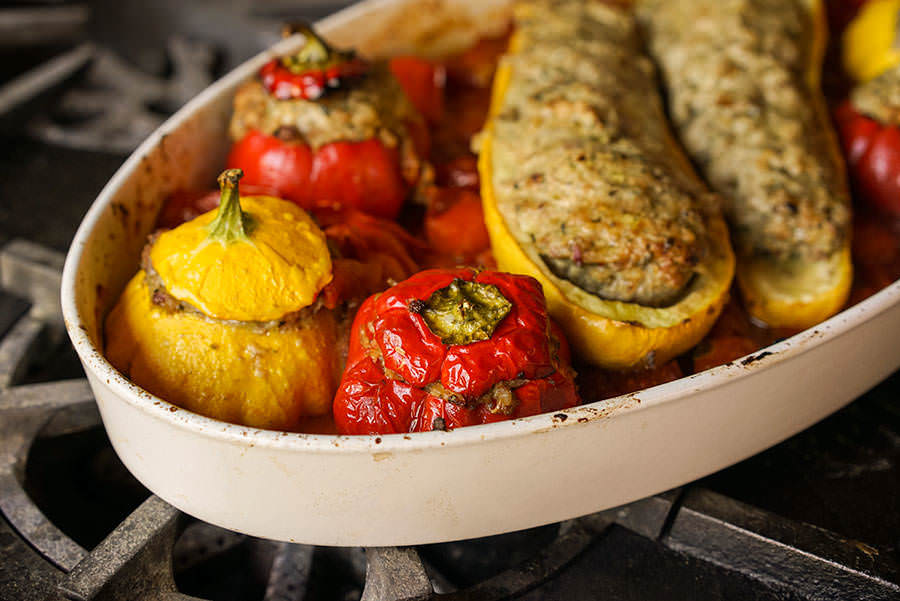 We like this recipe best at the end of summer, when cases of vegetables are at their most reasonable price at the market. It's perfect for taking care of leftover rice or stale bread. Of course, feel free to switch up the meat or vegetables (the same goes for the spices).
You don't even have to include the garnishes, but be sure to add more salt if you choose to omit them. For a Turkish-style version, use a kofte recipe to make the stuffing, add nuts and dried fruit, and serve it with a side of garlic yogurt.

Ingredients
8 zucchinis, eggplants, or bell peppers
1 Tbsp salt
1 medium onion
2 cloves garlic
4 Tbsp olive oil
3 Tbsp Little Italy blend
6 very ripe tomatoes, crushed
2 Tbsp olive oil
1½ lbs lean pork, ground
1 cup cooked rice or stale bread soaked in water
Salt and pepper to taste
splash olive oil
Garnishes
¼ cup chopped olives or capers
¼ cup parmesan
4 slices prosciutto, diced
Method
1

Preheat oven to 425°.

2

Seed peppers. Halve squash and eggplant and remove the interior flesh with a spoon. Salt the interior of the vegetables and let stand, upside down, to allow some water to drain out.

3

Chop onion, garlic, and the squash and eggplant flesh. Heat oil in a pot on medium and sauté the chopped vegetables with half the spices for about 5 minutes. Transfer to a large bowl and cool for a few minutes.

4

Add tomatoes and 2 Tbsp olive oil to the pot. Salt and pepper. Simmer 10 minutes and set aside.

5

Place meat, rice or bread and garnishes of your choice into the bowl with the sautéed vegetables. Salt and pepper to taste.

6

Pour the tomatoes into a large baking dish. Stuff the drained vegetables and arrange them around the baking dish. Sprinkle on remaining olive oil.

7

Bake for 1 hour.