Madras Curry Roasted Cauliflower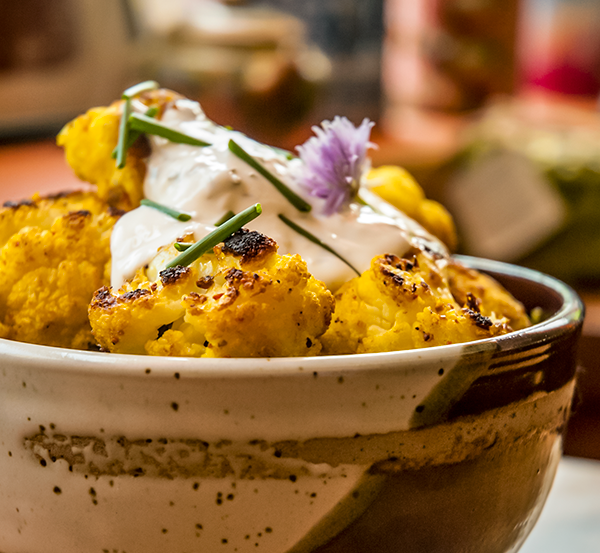 An easy-to-make side dish. Don't forget the garnish, and feel free to switch them up!
This recipe was concocted specially for Jessica and Mik's wedding, who were offering a Madras Curry to their guests as a wedding gift.
Ingredients
1 medium cauliflower
---
2 Tbsp ground Madras Curry or curry powder
---
2 Tbsp grated fresh ginger
---
4 c Tbsp olive oil
---
Salt and pepper to taste
Garnish
1 cup (250ml) yogurt
---
1 clove garlic, grated
---
1 pinch salt
---
Tarragon or mint, to taste (opt.)
Method
1

Preheat oven to 425° F. Divide cauliflower into equal-sized florets. Wash and drain.

2

In a large bowl, stir together Madras Curry, ginger, oil, salt and pepper. Add the cauliflower and mix well to ensure it's covered evenly.

3

Spread on a roasting tray. Roast for 30-35 minutes, until the cauliflower is well-roasted. Run it under the broiler for a few minutes if necessary.

4

Meanwhile, stir garnish ingredients together.

5

Serve hot or at room temperature with the yogurt.