Madras Shrimp Curry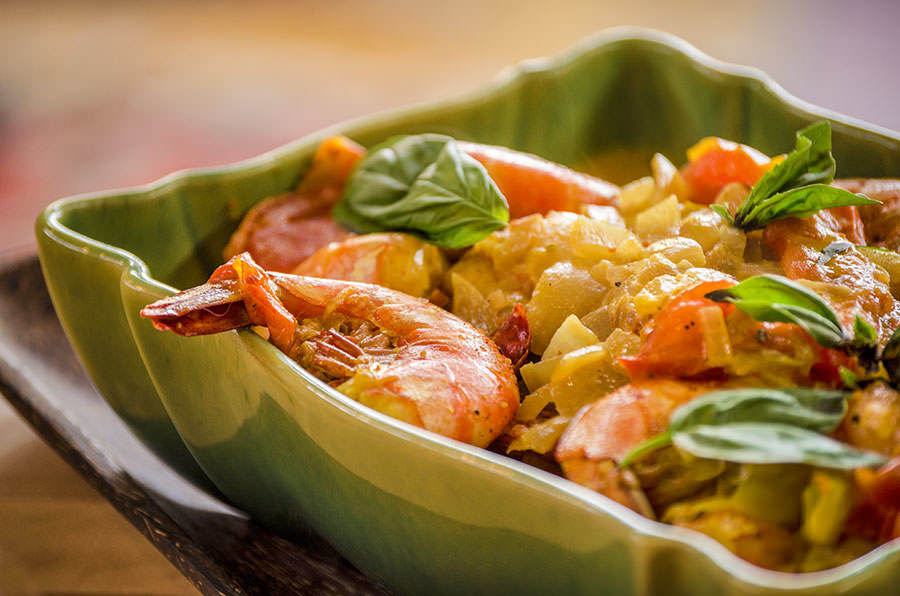 For the sake of variety, change the main ingredient to meat, poultry, fish, seafood, vegetables or tofu. Anything that seems appropriate for a curry will do and only cooking time changes (cover the pot for longer-cooking ingredients).
In the end, only the thickening liquid has to be chosen and the decision of whether to add garlic and/or pepper, has to be made. variations at this point are almost infinite.
For this curry, we recommend not shelling the shrimp. The sauce will be much better for two reasons: the shells give a lot of flavour to the sauce, and it is always tastier to eat with your fingers.
Ingrédients
1 lb raw shrimp, shell on
1 tsp salt
2 Tbsp Madras curry, ground
4 medium onions, chopped
4 Tbsp oil or Ghee
½ cup thickening liquid of your choice (e.g., cream, yoghurt, stock, coconut milk, tomatoes chopped or canned)
1 cup water
Method
1

Place the shrimp with the salt and curry in a bowl. Mix and set aside.

2

Cook onions in a pan with oil on medium heat until they become golden and limp (8-10 minutes).

3

Add the shrimp; stir-fry for 2 minutes. Add your choice of thickening liquid, then add water to the pan. Bring to a boil and simmer long enough to cook the main ingredient.